The Fortnite Item Shop had updated with the previously leaked Oro Skin.
The Fortnite Item Shop updates every day at 12 AM UTC. However, there are occasions when the item shop will update after an update or prior to an in-game event taking place. The shop will then reset again at the normal time.
After the Fortnite Item Shop updates yesterday, the counter for the next reset was 13 hours instead of the usual 24. In a previous update some time ago, data-miners leaked a legendary skin, Oro.
The skin was leaked prior to season 12 being released, and due to the fact that it hadn't been released in season 11, players expected it to be released either in the season 12 Battle Pass or in the Item Shop sometime during this season. There was theories going around recently that the Oro skin would be another secret skin for the Battle Pass as the Deadpool skin is the not so secret skin this season, but secret skins aren't usually revealed until the 7th or 8th week of a season.
In the latest Fortnite update, v12.21, data-miners discovered a set of challenges as a mini event for the Oro Fortnite skin. The challenges were leaked along with the rewards. This was followed by a recent leak that the Oro Fortnite skin would be available in the shop today at the 1 PM UTC reset.
Fortnite Oro Skin
The Fortnite Item Shop just updated with the Oro skin being added to the featured section. The Oro set also includes the Skellon glider. Oro can be purchased for 2,000 V-Bucks whilst the Skellon glider can be purchased for 1,500 V-Bucks as the glider is of legendary rarity.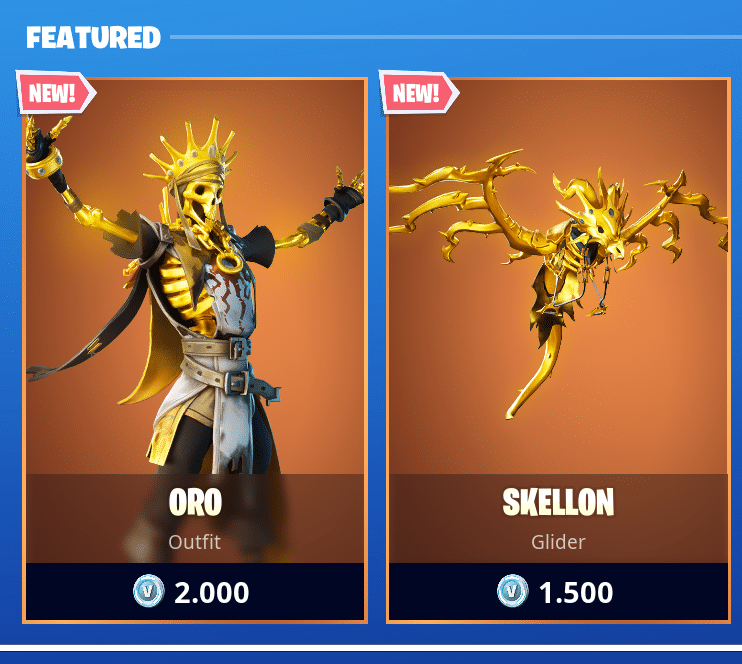 The previously leaked Awaken Oro challenges are now live along with the rewards which include a free wrap and harvesting tool/pickaxe