Players are logging in today to a message that they've received the Fortnite DC 63 Spray for free. Here's why.
There aren't many companies that do it better than Epic Games when it comes to giving their player base free in-game cosmetics. For every Christmas event, players get free cosmetics including skins/outfits, back blings, pickaxes, gliders, emotes and more.
During their birthday event, or some collaborations, there's more opportunities for players to get free cosmetics. In August 2021, Epic Games provided their player base an oppotunity to learn about Dr. Martin Luther King through the March Through Time event.
The event was a result of a Epic Games and TIME studios collaboration, creating a new interactive experience to celebrate the life and work of Martin Luther King. Players could experience a re-imagined Washington, DC at the Lincoln Memorial where Dr. King gave his iconic "I have a dream" speech.
There were some simple challenges players could complete that would earn players a spray.
DC 63 Fortnite March Through Time Spray
The DC 63 Fortnite spray was given to everyone that completed the challenges. Months later however, all players are now receiving the DC 63 Fortnite spray when they log in to their Fortnite account.
If you're wondering why you got the DC 63 Fortnite spray, there's no official reason why.
What's the name of this seasons Starter Pack
What's the code name for the new map?
What is the name for Chapter 3?
How many V- Bucks can you earn if you unlock all of the rewards from this seasons Battle Pass?
When Did Chapter 3 Season 1 Launch?
Which one of these is NOT a landmark in Chapter 3?
When were the Spider-Man Mythic Web Shooters added to the game?
When did the Chapter 2 finale event take place?
A new item, Guzzle Juice, was added this season. What does it do?
Which of these POIs is NOT on the Chapter 3 map?
Where is The Sevens hidden home on the map?
Which of these features were added in Chapter 3 of Fortnite?
In the official Fortnite Chapter 3 Character trailer, who if the first character shown?
There are seven new Battle Pass skins not including the secret skin. Which of these is not the name of a Battle Pass skin?
On what page of the Chapter 3 Battle Pass will you find the Lunar Charge Emote?
Which one of these is not a new weapon this season
How many Loading Screens are there in this seasons Battle Pass?
What is the rarity of the Wooly Mammoth Glider?
What is the name of the additional Skin for Chapter 3, that is not yet released?
When is this season (chapter 3 season 1) scheduled to end?
Fortnite C3:S1 Quiz
You're FlyTrap! Better luck next time!
You're Grimbles! Sucks to be you
You're Shadow Midas! Congrats!
You're Spider-Man and a sweaty FN player!
The March Music Pack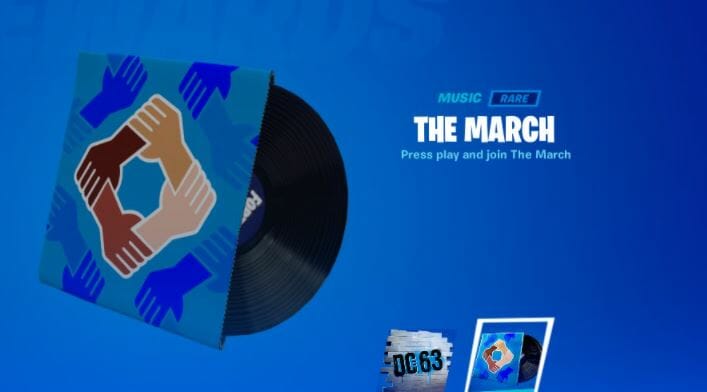 Players are also getting the "The March" March Through Time music pack for free, which is of rare rarity. The message still says "Thanks for exploring D.C. 63 even though that's not the case.
We're not sure if this is something that Epic Games planned to do, or is some kind of mistake on their part. Either way, everyone has a couple of free cosmetics in their locker now.