According to a report by Edison Trends, revenues for Fortnite have dropped by 52% between Q2 2018 to Q2 2019.
Fortnite is still arguably the most popular game along with League of Legends, however, revenye for the game was down by 52 percent between Q2 2018 and Q2 2019 according to a report released by Edison Trends.
Fortnite's best month for revenue was in December 2018, however, revenue has been on the decline since Q2 2018. According to the report, 83% of Fortnite's revenue comes from V-Bucks purchases which is spent on in-game cosmetics and the Battle Pass each season. The remaining revenue for the game is generated from the Fortnite bundles and packs that are made available in the Fortnite store which aren't available to purchase with V-Bucks.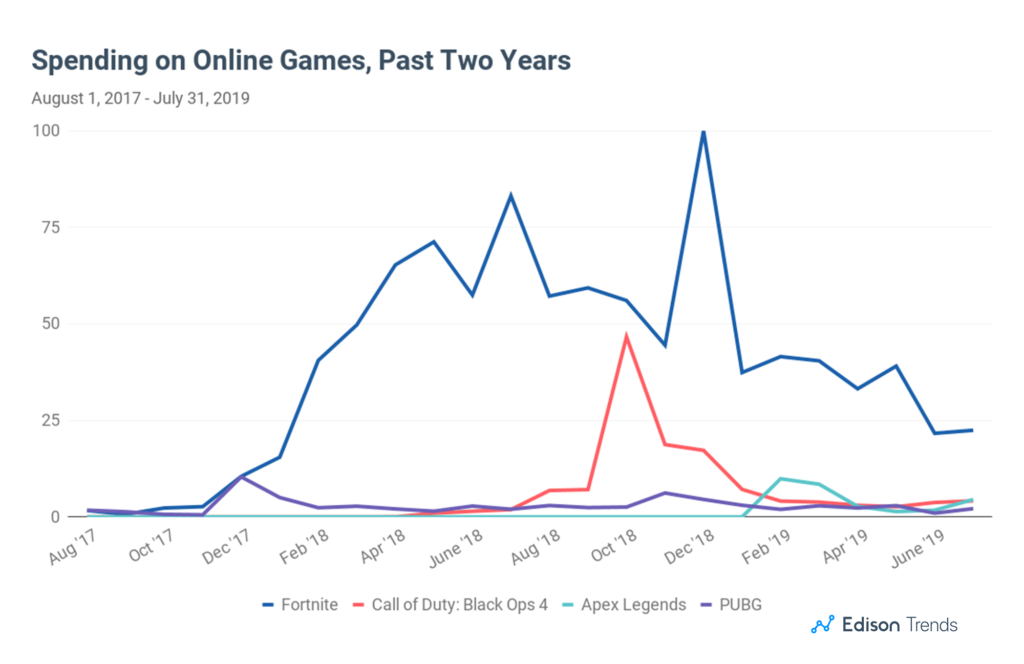 When it comes to player loyaly, 49 percent of Fortnite players were recorded to make repeat purchases month over month. In comparison, their rival Battle Royale game, Apex Legends, saw 62 percent of their players make repeat purchases.
It comes as no surprise that Fortnite's revenue has taken a decline this past year due to the game becoming a global phenonenon and recording huge concurrent players on a regular basis.
Epic have had several collaborations in Q2 of this year including Avengers Endgame, Jumpman, and John Wick. Each of these collaborations included free cosmetic rewards available from challenges along with cosmetics that were available to purchase in the Fortnite Item Shop. Even with these collaborations, it couldn't stop the revenues for the game from slipping.
Fortnite continues to bring in high revenue figures, especially in comparsion to other games, but there's no denying the game is on a decline in terms of both players and revenue. Epic will need to ensure their next season that they've delayed by a week is a home run or else they'll continue to see their revenue and player base drop.