Here's all the rift locations in Fortnite Chapter 2 Season 4 for the "use rifts" XP Xtravaganza challenge.
Last week was the final week of the normal weekly challenges and there's no more XP coins that'll be added to the map in Fortnite season 4. There's also no overtime Fortnite challenges that will provide players with additional skin styles for the battle either. However, we do have XP Xtravaganza challenges to complete.
There's three stages for some of the challenges and there's a total of five challenges for players to complete. There will be another three weeks of XP Xtravaganza Fortnite challenges, and all challenges are squad challenges to help you complete the as quickly as possible.
One of the challenges that was unlocked today requires players to use rifts. The first stage of the challenge requires you to use 10 rifts. For those of you that don't know the rift locations in Fortnite season 4 (chapter 2), we have you covered with the locations.
All Rift Fortnite Locations
Rifts haven't been in Fortnite for some time until Fortnite season 4. Epic introduced the small Marvel landmarks around the map, and those landmarks have a number of rifts around them. It's likely the locations were brought in using rifts, so you'll find at least two at each location.
The first rift that was added in chapter 2 was straight after the spaceship event. Players needed to collect and install parts to a spaceship. Once it took off, it left a few rift locations north of Craggy Cliffs on the beach.
You'll also find a few rifts around the outskirts of Stark Industries where you can't access the large named location by foot or using a vehicle. Here's a map with all the rift location in Fortnite: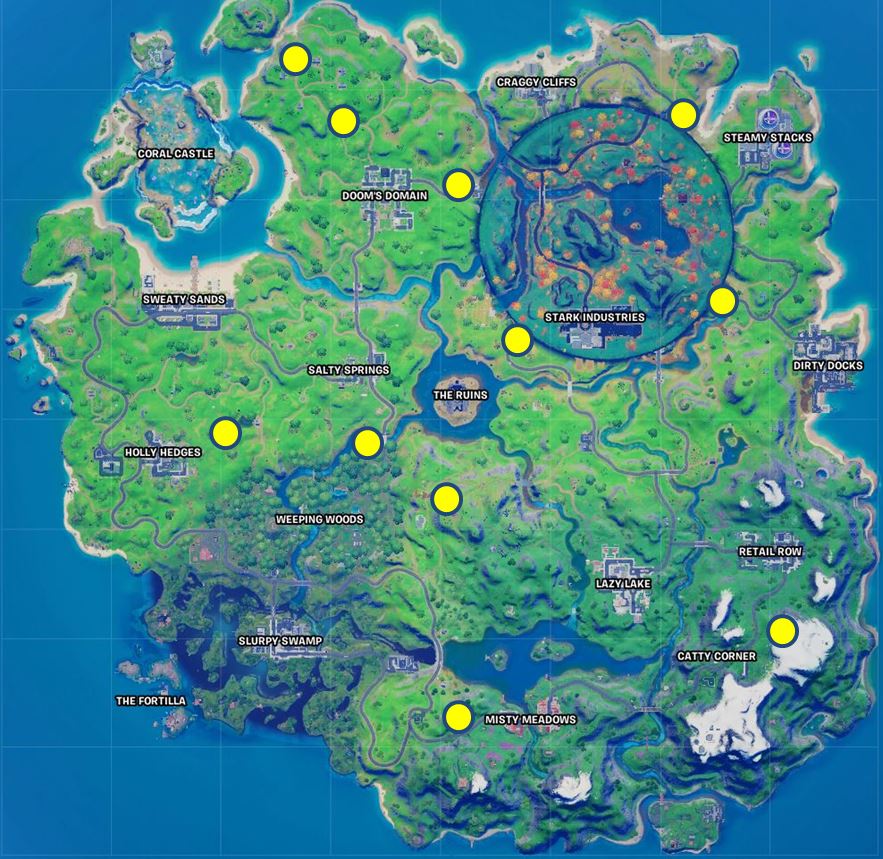 Update: There's another two rifts in Craggy Cliffs
To complete this challenge and its stages quickly, you'll want to enter a rift and drop down straight into the next on if there's a few next to each other. All the Marvel-themed landmark locations have at least two, so this shouldn't be too hard to complete especially as a squad challenge.