Dataminers have leaked the location of where the Season 10 "The End" live event countdown timer will be on the map.
We've had at least one live in-game Fortnite event since the rocket launch event that took place in Season 4. We've known that we'll be getting a rocket launch event for some time now as dataminers leaked a rocket build at Dusty Depot before it was built.
There's been a great deal of speculation regarding when the season 10 live event will finally happen. Many thought that the event would take place this weekend with the countdown timer expected to appear last weekend, however, this obviously wasn't the case.
Epic officially announced in the v10.40.1 patch notes and in another blog post yesterday that Season X/10 would be extended for a week. The season was initially expected to end this weekend on Sunday, 6th October. The season will now end on Sunday, 13th October, and this the reason why we won't be getting the live event this weekend.
When is the Fortnite Season 10 "The End" Event?
It's extremely likely that the "The End" season 10 live event will take place next weekend on either Saturday or Sunday. All signs point towards out first Sunday live event due to the fact that the season will end on that day. Epic stated that the Overtime Out of Time mission challenges will be available from Tuesday, 8th October to Sunday, 13th October at 2 PM ET. The end date of the overtime challenges is the exact time every live event in previous seasons has taken place, which all but confirms the event will be on Sunday at 2 PM ET.
Season 10 Event Countdown Timer
The event countdown timer we're used to seeing on the map is yet to appear. However, dataminers have now figured out the location of where we'll see the timer appear. Thanks to Twitter user spedicey1, we know where the countdown timer for the event will appear, but how the countdown timer will look is still up in the air.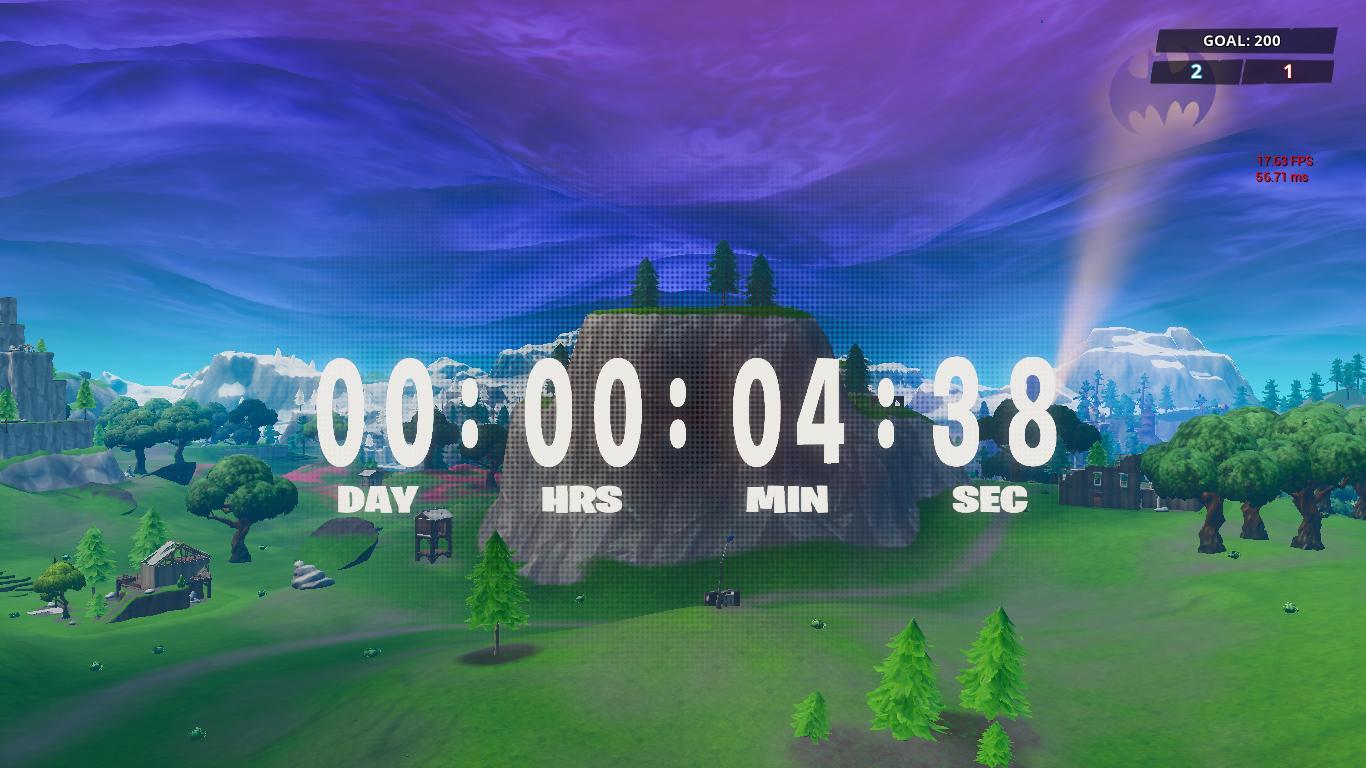 The timer will appear above one of the Dusty Depot warehouses where the rocket is as seen below:
It's likely we'll see the countdown timer appear on Sunday, but as always, nothing has been confirmed. We'll keep you updated when the timer does appear which will confirm when the season 10 event will take place.