Season 5 is almost over, which means we should be seeing what the Cube will change on the Fortnite map very soon. At the time of writing, the Cube has imprinted the 5th rune and so it looks like there will be only two more runes left before it makes its way to Loot Lake. @siloxleaks on Twitter has been creating a map of the Cubes wherabouts and updates the location quite regularly. You can see the current location of the Cube below, as well as the speculated locations for the next two runes: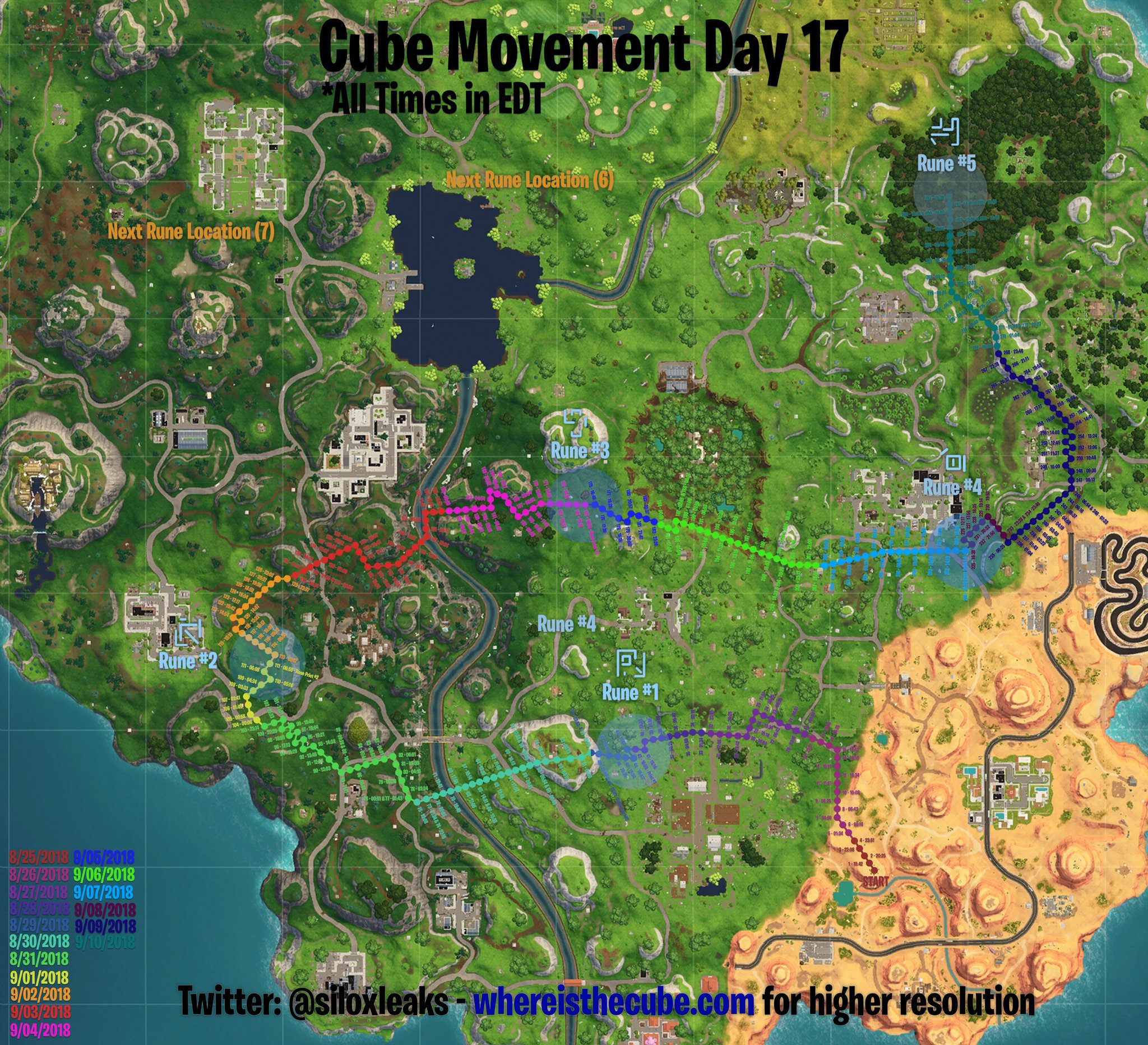 We have reached Season 5, Week 10, and the last weeks set of challenges should be releasing on Thursday 13th September, but they have been leaked, thanks to @siloxleaks. Here are the challenges for Season 5, Week 10:

Free Pass Challenges
Search Jigsaw puzzle pieces in basements (7)
Consume Apples or Mushrooms (20)
Eliminate opponents (HARD) (10)
Battle Pass Challenges
Search chests in Salty Springs (HARD) (1)
Deal damage to opponents (5,000)
Search between a covered bridge, waterfall, and the 9th green (HARD) (1)
Stage 1: Eliminate an opponent in Pleasant Park (1)
Looks like there will be another stage challenge to complete for Season 5, Week 10. You can see the different stages to the challenge below:
Stage 1:Eliminate an opponent in Pleasant Park
Stage 2:Eliminate an opponent in Wailing Woods
Stage 3:Eliminate an opponent in Lucky Landing
Players will receive one Battle Star for completing each stage, which means there are three Battle Stars that can be earned from this challenge.
An interesting challenge for this week is the "Search Jigsaw puzzle pieces in basements" challenge. This is a new challenge, which is different from any of the other challenges we have seen in the past. The puzzle could possibly reveal more information on the storyline for this season, but we will have to wait and see!
We will be releasing tips on how to complete these challenges when they go live on Thursday. These challenges are confirmed as Epic could change them at any time, but these challenges have been data-mined and will most likely be accurate. We will be releasing the official challenges when they are live on Thursday.
Fortnite Battle Royale: PlayStation®Plus Celebration Pack Now Available