There are new challenges that are released in Fortnite every week and the layout of the challenges have actually changed from the previous seasons to Season 5. Fortnite now has three free challenges every week and four extra challenges for battle pass players. Players must complete all seven challenges to complete the Road Trip challenges.
We now have the leaked challenges for Season 5, Week 3, thanks to Fortnite Tracker: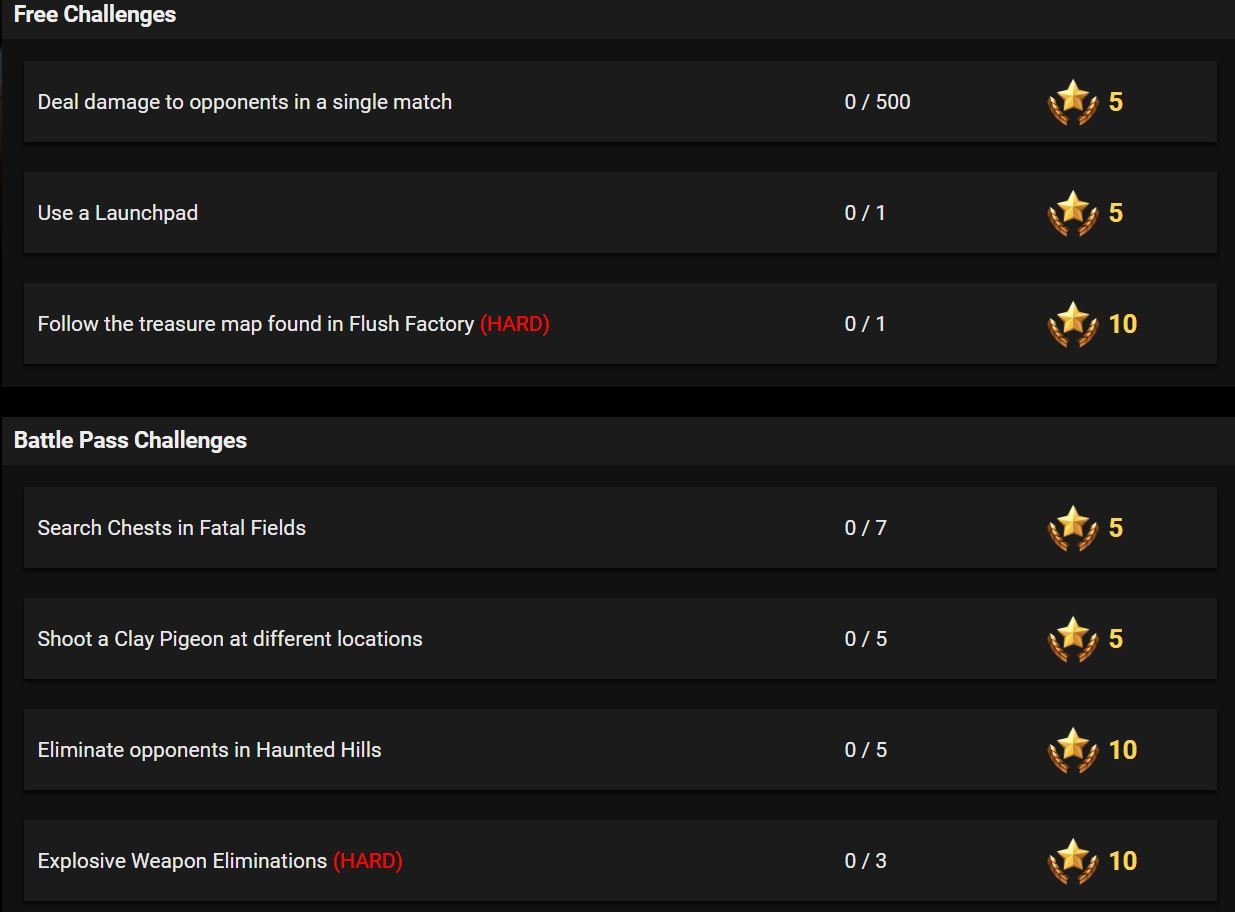 Free Challenges
Deal damage to opponents in a single match (500)
Use a Launchpad (1)
Follow the treasure map found in Flush Factory (HARD) (1)
Battle Pass Challenges
Search chests in Fatal Fields (7)
Shoot a Clay Pigeon at different locations (5)
Eliminate opponents in Haunted Hills (5)
Explosive weapon eliminations (HARD) (3)
One of the challenges for Season 5, Week 3 is for players to use a Launchpad. The Launchpad is an epic rarity item that can be found in Floor Loot, Llamas and Supply Drops. The challenge says to use a Launchpad and not place a Launchpad, so the challenge should still be completed if you use a Launchpad that has been placed by an enemy. Launchpads have unlimited uses, but can be destroyed.
'Follow the treasure map' challenges is one of the challenges that has become a norm to Fortnite, with only the location of the treasure map changing. As always, we will show the location of the Battle Star when the challenges go live on Thursday.
'Eliminate opponents' challenges are also one of the regular challenges for Fortnite, with only the location changing each week. You can expect Haunted Hills to be full of players trying to complete the challenge, so make sure you get a weapon quick and get high ground to have an advantage on opponents.
With the V5.1 update, there have been new Clay Pigeon Shooting areas found around the map. These have been added just in time for the challenges that will be released on Thursday. We will provide a map of all the locations in which you can complete this challenge when the challenges are live.
We will provide tips and maps to help you complete the challenges when the challenges go live on Thursday.