New challenges are unlocked every Thursday for Fortnite Battle Royale with four challenges that can only be completed by Battle Pass players and three additional challenges that can be completed by Free Pass players as well. Every week, the challenges are leaked early, but Epic could change the challenges at any time. According to Fortnite Tracker, these are the challenges that will be released for Season 5, Week 6: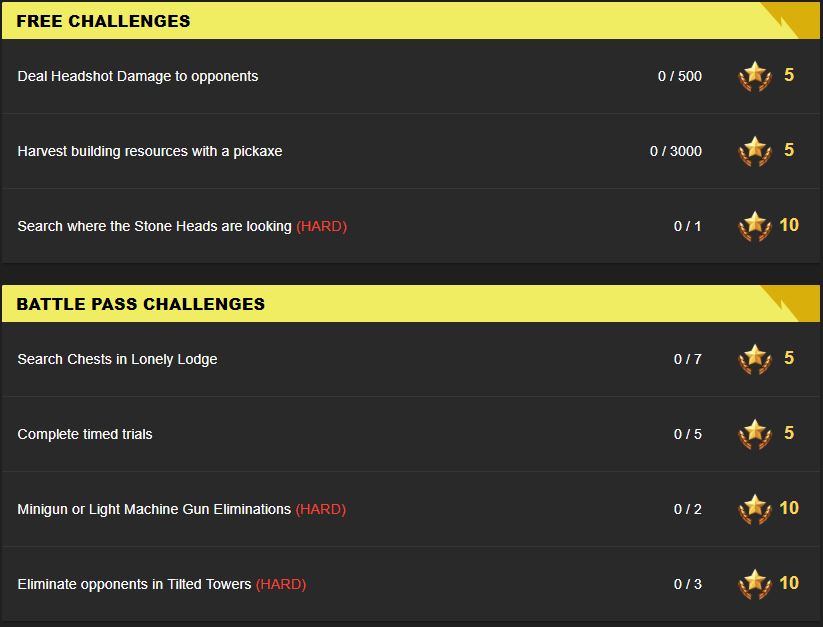 Free Pass Challenges
Deal Headshot damage to opponents (500)
Harvest building resources with a pickaxe (3000)
Search where the Stone Heads are looking (HARD) (1)
Battle Pass Challenges
Search chests in Lonely Lodge (7)
Complete timed trials (5)
Minigun or Light Machine Gun Eliminations (HARD) (2)
Eliminate opponents in Tilted Towers (HARD) (3)
The harvesting materials challenge should be very easy to complete as building is essential for surviving in Fortnite and to get materials, you will need to harvest them. A good tip when harvesting materials is to hit the blue circles that appears after the first hit. The blue circle shows the weak spot of the object and this will help you to break the object quicker, but you will receive the same amount of materials. The circle will move after each hit, but if you stand closer to the object when hitting the object, the circle won't move so far away and will be easier to hit.
Stone heads were added to Fortnite in Season 5 and they all seem to be facing in one particular direction. We will show you exactly where all the heads are facing on the map when the challenges go live on Thursday. Stone heads are a useful place to land as there can be up to three chests that spawn next to them. They also have some rift portals near them so you will be able to move around the map quickly.
The search chests challenge is taking place in Lonely Lodge this week, which means this POI will be very busy this week. We will be releasing a map to show the location of all possible chest spawns in this location to help you to complete the challenge and get to chests before opponents.
The timed trials will most likely be on the racetrack, as this is where you can actually drive around the course and it will actually calculate time time it took for you to get around. There are also rings that appear at different intervals of the track.
Tilted Towers has always been a hotspot and it looks like it will be even busier this week as one of the challenges require players to eliminate opponents in this POI.
Looks like Lonely Lodge and Tilted Towers will be heavily populated this week. We will be releasing maps/tips to help with the challenges when they are live on Thursday.