New challenges are released every week in Fortnite Battle Royale on Thursdays and there are seven challenges for every week. Three of these challenges are available for Free Pass players and the remaining four are only available for Battle Pass players to complete. We had previously leaked the challenges that would be available for this week, but the official Fortnite Season 6, Week 7 Challenges are now live and can be seen below:
Fortnite Season 6, Week 7 Challenges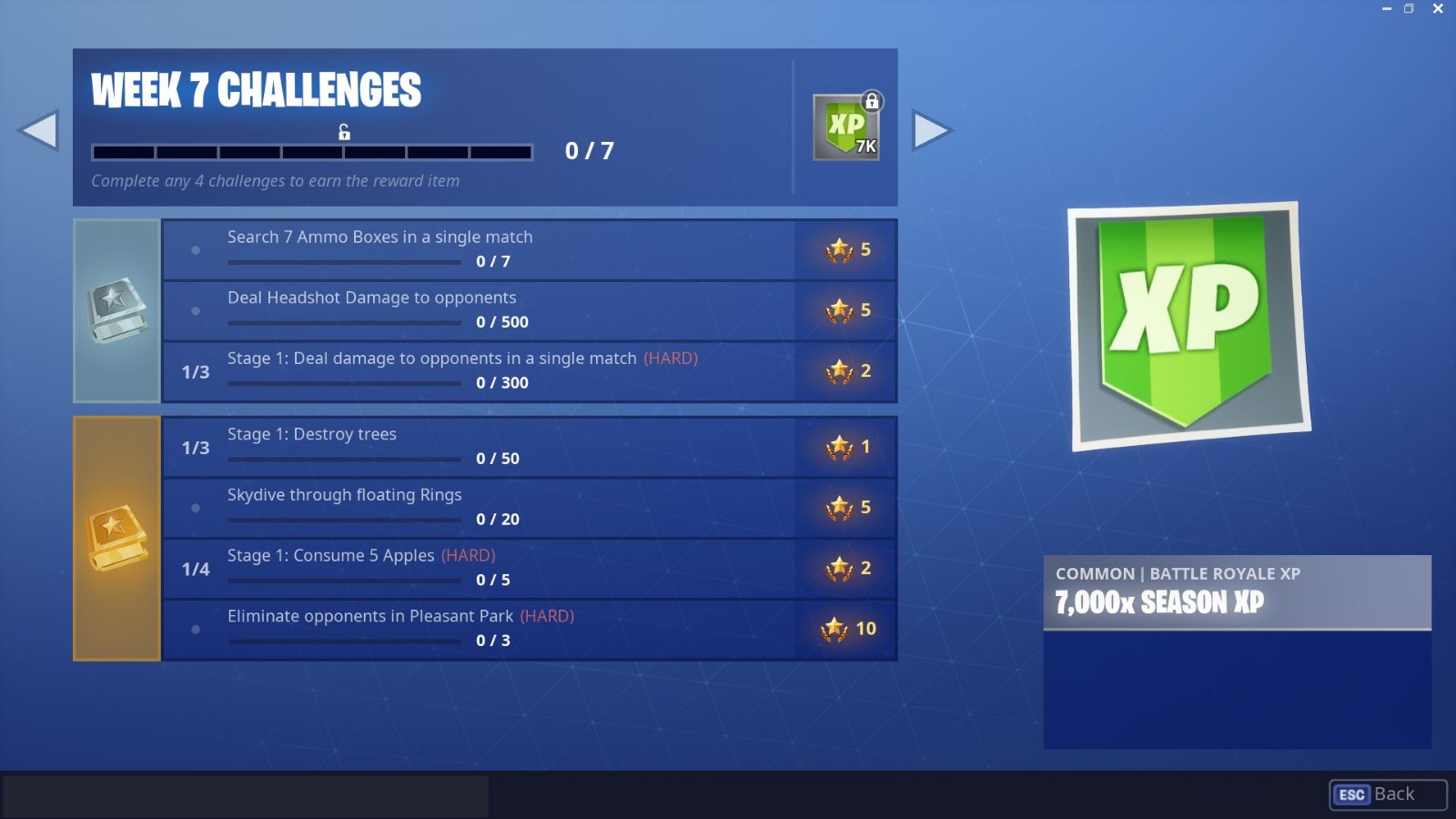 Free Pass Challenges
Search 7 Ammo Boxes in a single match (7)
Deal Headshot Damage to opponents (500)
Stage 1: Deal damage to opponents in a single match (HARD)(300)
Battle Pass Challenges
Stage 1: Destroy Trees (50)
Skydive through Floating Rings (20)
Stage 1: Consume 5 Apples (HARD)(5)
Eliminate Opponents in Pleasant Park (HARD)(3)
These challenges are quite simple and self explanatory, but we will be releasing a cheat sheet later to show you the best place to find different items for the challenges if you are struggling. There are three different stage challenges for this week, with one of them available to players that do not have the Battle Pass.
Tip: Ammo Boxes can be found in various different places around the map and are quite easy to find when. Make sure you look on top of shelves, under stairs and behind beds to find them.
The 'Skydive through Floating Rings' is a challenge we have seen before in previous seasons and it quite easy to complete. You can see the Floating Rings when you jump from the Battle Bus and you should be able to go through a few rings at a time.
Once you have completed all of the challenges for this week, you will unlock a loading screen for the Hunting Party Challenge. Providing you have completed all previous weeks challenges, you will unlock the Hunting Party Skin, which was previously leaked, and unlock a loading screen. We will show the loading screen and the location of the hidden Battle Star shortly.