The Fortnite Season X Limited Mission "Junk Storm" has replace The Leftovers mission. Here's all the objectives/challenges and rewards.
Epic Games replaced the daily challenges with a limited time mission, which is replaced every single week. These missions are important as players need to complete 3 objectives in order to unlock a loading screen that'll provide the location of the secret/hidden Battle Star. Other rewards for the limited time mission include Battle Stars and Season XP.
Here's all of the Junk Storm mission and objective/challenges:
Junk Storm Mission – All Challenges/Objectives
Consume Glitched Foraged Items (5)
Play Arena Matches (3)
Scoped weapon eliminated (2)
Deal Headshot damage to opponents (500)
Search a chest in different named locations in a single match (3)
Land at Pressure Plant or Happy Hamlet in different matches (3)
Deal damage to opponent's structures (1000)
Junk Storm Limited Time Mission Rewards
1 objective completed – 10 Battle Stars
2 objectives completed – 500 XP
3 objectives completed – Junk Storm Loading Screen
4 objectives completed – 10 Battle Stars
5 objectives completed – 1,000 XP
6 objectives completed – 10 Battle Stars
7 (All) objectives completed – 2,000 XP
Here's a look at the loading screen you'll unlock once you complete 3 objectives, which can only be completed 2 days after the challenges are made available: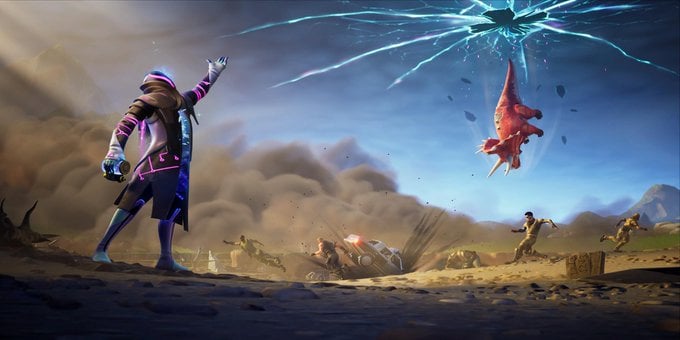 Players will not be able to access/collect the Season X, Week 4 hidden/secret Battle Star until the third objective/challenge unlocks, which is on Saturday, 24th August.