The Fortnite servers are down for scheduled maintenance, here's when the servers should be back online as well as how big today's update download size is.
It's been two weeks since the last major Fortnite update. The update introduced a new SMG to the loot pool and the Combat SMG was finally removed from the game. A new location, Shuffled Shrines was also added along with the release of the Indiana Jones cosmetics.
Last week, the combat assault rifle made a return to the game and Epic Games reduced the price of character services by 50%. Last week, Epic Games announced the 21.30 update a few days prior to its release.
Epic Games employees are scheduled to go on their annual summer break this week which is the reason why the update was announced earlier and also the reason why it's releasing on a Monday instead of releasing on the normal update today, a Tuesday.
We won't be getting any major updates for three weeks with two weeks' worth of content updates planned. Whatever content releases in the next two weeks will be added to the files in the 21.30 files, so expect data miners to leak them ahead of time.
With the update announced so early and with 21.30 releasing on a Monday instead of a Tuesday, players are either wondering why the Fortnite servers are down or when they'll be back up from scheduled maintenance.
Are the Fortnite Servers Down Right Now? July 18, 2022
The Fortnite servers are currently down for scheduled maintenance on July 18th, 2022. Epic Games stated in their tweet on July 15th that the servers will be down at 4 AM ET (9 AM UTC) with matchmaking being disabled thirty minutes prior.
Here's the tweet from the official Fortnite Status Twitter account: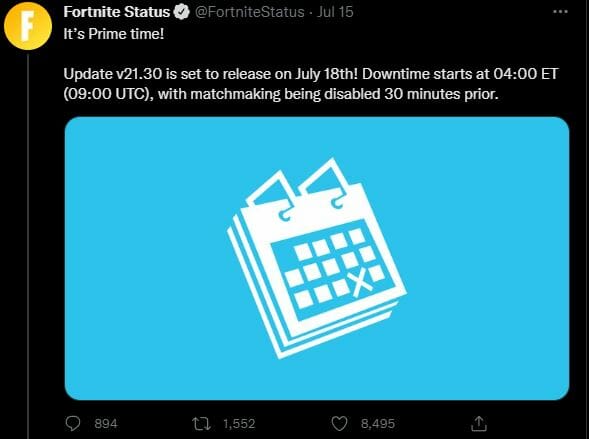 When Will The Fortnite Servers Be Back Up?
Although there's never any official information from Epic Games as to when the Fortnite servers will be back up, we'd expect downtime to only last for two hours. That means the servers should be back up at around 6 AM ET (11 AM UTC). We'll update this when they officially back up.
July 18 3.64 Fortnite Update Download Size
Players always want to know how large the new Fortnite update is in terms of download file size. We'll update the article below to provide you with the file size for PS4, PS5, Xbox One, Xbox Series X|S, PC, Nintendo Switch, and Android when it's available. Be sure to check back.