It looks like the Fortnite servers are down again today on December 30th, 2021 with players reporting a stuck on connecting screen.
Yesterday, the Fortnite servers were down for a few hours. Players were having the usual issues when trying to login including not having permission to play, a blank white screen, and being put into a queue.
There's been no information regarding why the Fortnite servers are down so often. It seems with the launch of chapter 3, there are clearly issues that might stem from Epic using the new Unreal Engine 5.
When the season launched, there were numerous issues. When the Spider-Man mythic web shooters item was added, it caused the servers to crash but was quickly corrected. Since the downtime yesterday, Epic Games stated they'll have more details next week on what they're doing to help players make up for lost time.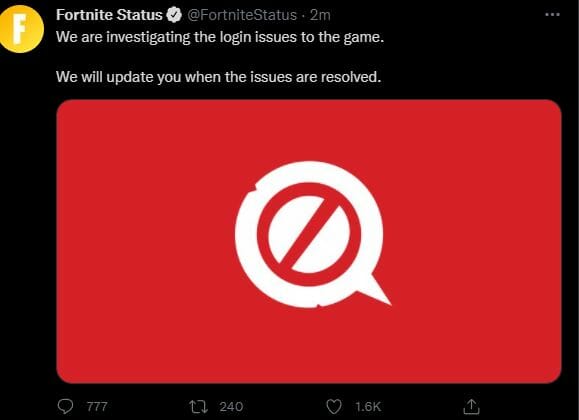 In the past, Epic Games gave everyone a free back bling, but the circumstances are different. When the free back bling was provided back in chapter 1, the Fortnite servers were down for more than fourteen hours.
Is Fortnite Down December 30th 2021
The Fortnite servers ARE down today for some players. On PC, The Epic Games launcher seems to be down and players can't click on Fortnite to launch it. There's a chance the three free Tomb Raider games could be causing more traffic than usual on the Epic Games launcher and the servers can't handle it.
While you're waiting, see how high you can score on our chapter 3 quiz:
Fortnite Not Connecting, Stuck on Connecting Screen
Players are reporting not connecting as they're stuck on the Fortnite connecting screen. It doesn't seem to be an issue on PC as we've checked multiple times, but after checking on PS5 and getting the error, it appears as though it only affects console players.
There's nothing you can do to fix these errors, you'll need to wait for Epic to fix the ongoing server issues.