The Fortnite Shadows Rising Pack is now available worldwide in the Fortnite Store. Here's everything you need to know including the price and what's included in the pack.
In last week's v9.30 Fortnite update, dataminers leaked a large number of cosmetics that would be coming to the game in the near future. Some of those new cosmetics are part of the recently released Shadows Rising pack. The pack includes 3 skins, 3 back blings and one wrap.
The pack is similar to what we've seen in previous seasons. In Season 7, Epic introduced the Frozen Legends pack, which also included 3 skins and 3 back blings. Last season, Epic released the Lava Legends pack. Epic decided not to release another legends pack this season, opting to release the Shadows Rising pack.
Fortnite Shadows Rising Pack Price
use code FORTNITE-INSIDER in the bottom right of the item shop if you'd like to support us.
The price of the Shadows rising pack is the same as the frozen legends and lava legends pack. We've included the pricing for several countries below:
$19.99 (USD)
$26.95 (AUD)
£15.99
€19.99
¥2,160
Shadows Rising Pack Skins, Back Blings and Wrap
As mentioned earlier, the Shadows Rising pack has three skins, three back blings and one wrap. You can see all the cosmetics below:
Shadow Skully Skin (Epic) – Eclipse the world with stylish domination
Shadowbird Skin (Epic) – Fly in light, live in the eclipse
Perfect Shadow Skin (Epic) – Become the ominous shadow
Stark Satchel Back Bling (Epic) – Equal parts adorable and stark
Shadowbird Wings Back Bling (Epic) – Fly in the eclipse
Perfect Wings Back Bling (Epic) – Soar in shadows
Array Wrap (Rare)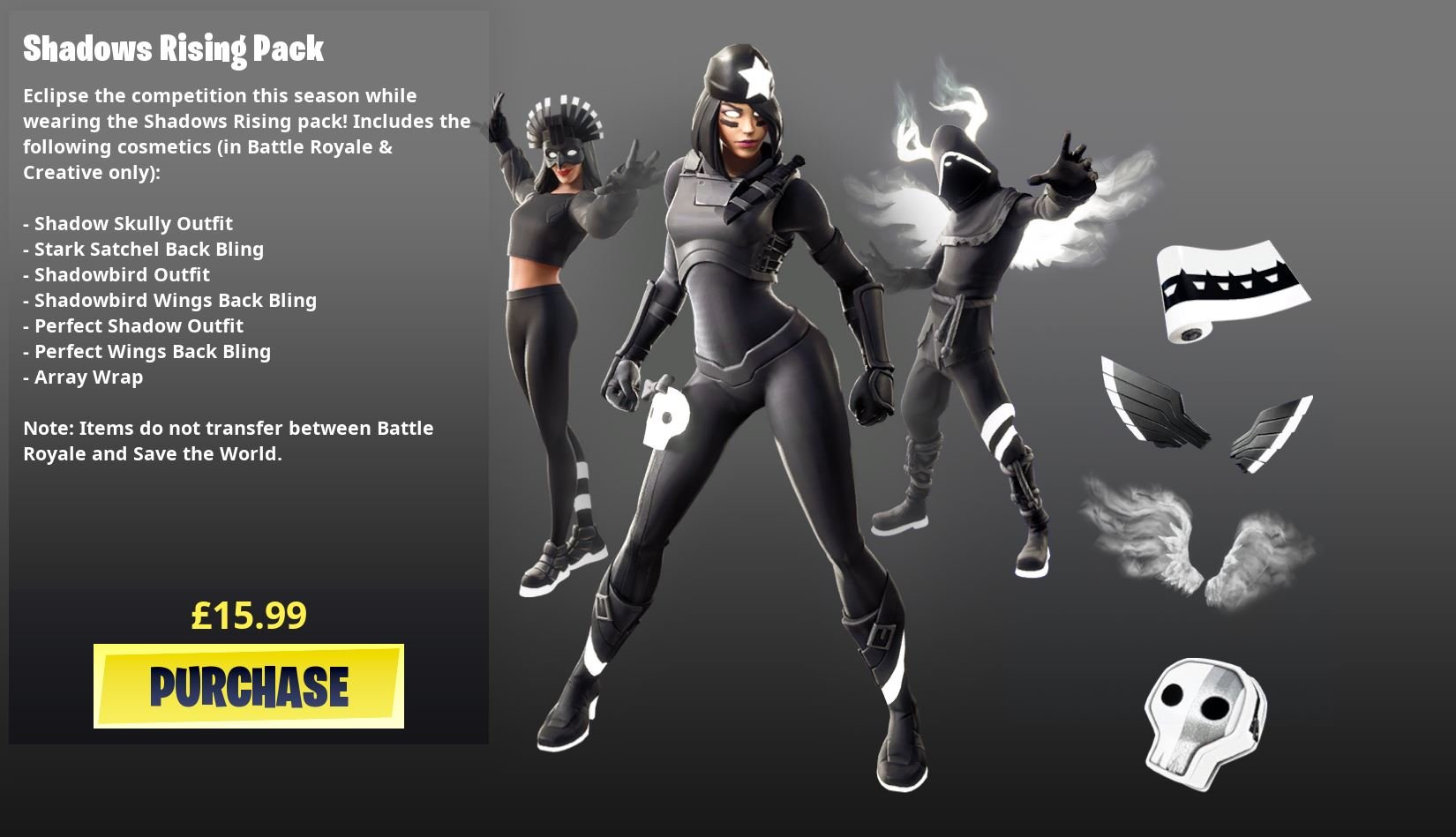 There's been no information released as to when the Shadows Rising pack will leave the Fortnite store, however, it's likely the pack will be available to purchase for at least a month.
Have you purchased the Shadows Rising pack or will you be purchasing it in the future? Let us know in the comments section below!