Here's everything you need to know about the Fortnite Trinity Challenge tournament that was announced recently.
Epic Games have increased the amount of tournaments and cups they put on. Last season, we had the Marvel Knockout Series cup. Players could earn free Marvel cosmetics before they were available in the Fortnite Item Shop including skins like Venom, Black Widow, and Ghost Rider.
We've had a few tournaments in Fortnite season 5 that has provided players with a chance to get their hands on free Fortnite skins and other cosmetics. Players could get their hands on the new Lazarbeam Icon Series skin and other cosmetics in the set if they placed high enough in the Lazar & Fresh's Super Knockback tournament.
Epic Games have just announced a new Fortnite tournament called the Fortnite Trinity Challenge and here's everything you need to know.
Trinity Challenge Fortnite Tournament
The Fortnite Trinity Challenge is presented by Three/WINDTRE and will take place on March 14th for Europe. Players will have the standard 10 matches in a 3-hour tournament window. There's a free Fortnite skin up for grabs before it's made available in the Fortnite Item Shop.
How to Get the Trinity Trooper Fortnite Skin for Free
You don't need a specific amount of points in the Fortnite Trinity Challenge tournament in order to get the Trinity Trooper challenge for free. However, the top 3,333 players will get the Trinity Trooper Fortnite skin for free. Anyone that completed at least five matches will get the Trinity Impact and Trinity Overload Emoticons for free.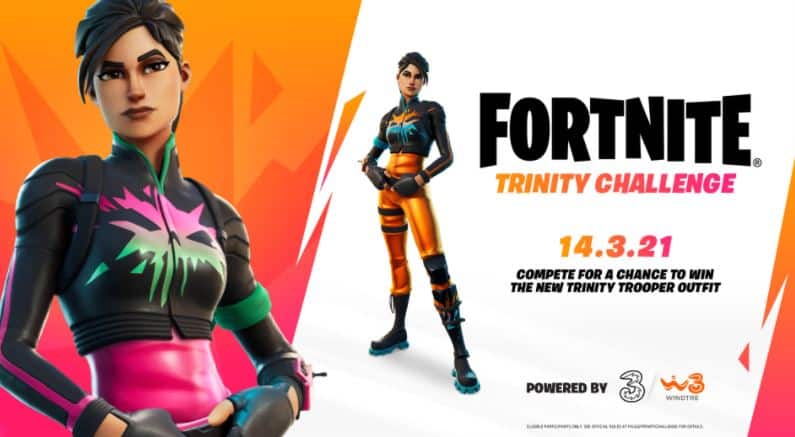 The Trinity Challenge tournament will start of March 14th at 2 PM GMT. You will need to have Two-Factor Authentication enabled on your account and you'll have until 2 PM GMT until 5 PM GMT to complete ten matches in the tournament.
It's important to note that players in other regions can simply change their server region if they'd like to participate. You can grab your free emoticons by playing at least five matches, but it might prove difficult to finish in the top 3,333 with the high ping you'll have to deal with.