Epic Games have announced a new Fortnite update, 19.10, will be released tomorrow on January 18, 2022. Here's what to expect.
Epic Games launched the 19.00 Fortnite update that introduced chapter 3 season 1 near the start of December. We then had the last major patch of the year, 19.01, which included the Winterfest Christmas event.
Since the middle of December, we haven't had a new major Fortnite update. Epic employees were back from their break a couple of weeks ago and since then, we've had a hot fix update last week that introduced tornadoes and lightening to the game along with the flare gun returning from the vault.
We finally know that a new Fortnite update will be releasing tomorrow, the 19.10 patch. Here's everything we know about the upcoming update so far including early patch notes, when the servers will go down for maintenance, and more.
Server Downtime Time
The Fortnite Status Twitter account usually confirms an update at around 10 PM GMT. However, they confirmed the 19.10 update much earlier. The servers will go down on January 18, 2022 at 4 AM ET. Matchmaking will be disabled thirty minutes before this time, but if you're in a game at the time, you'll be able to finish it.
Here's the official tweet:
Fortnite update patch notes 19.10 January 18 2022
There's a lot of content that should be added today in the 19.10 patch. We obviously don't have official patch notes right now, but we already know the new content we can expect.
We know for a fact that Tilted Towers will be making a return to the game. The beloved chapter 1 named location hasn't been in the game since chapter 1 season 8 unless you count when it was changed to Neo Tilted.
Epic Games tweeted "one more sleep" accompanied by an emoji of towers. We already knew it would be added back this season thanks to data-miners, but we now have the official confirmation everybody was waiting for, especially me as someone that played the game before Tilted Towers was released.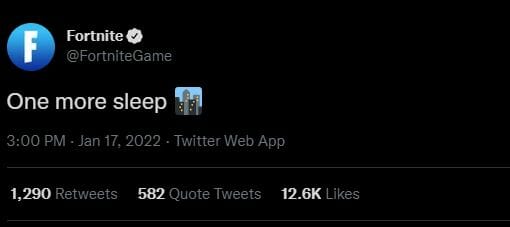 While you're waiting for the servers to come back online, take this quiz:
[wp_quiz_pro id="87009″]
Convert Canyon / Cavern POI
A Convert Cavern or Convert Canyon named location should also be releasing in 19.10 along with the Butter Cake Dinosaurs, something which we've seen teased in different images that have been released along with the chapter 3 season 1 trailer.
The Grenade Launcher might also be making a return to the game, although it might come in a hotfix next week instead of this new Fortnite update. There should also be three new NPCs on the map, which could be the Spider-Man NPCs which data-miners leaked a few weeks ago.
Be sure to check back on Fortnite Insider during downtime for all the leaks, news, and anything else from the 19.10 Fortnite update.