Epic Games have released a brand new Fortnite update today, 3.57. Here are the May 20th, 2022 patch notes.
On Tuesday, Epic Games released the final patch update of the season, 20.40. There wasn't anything new that was added to the game, however, there were a couple of weapons that returned to the loot pool.
Both the Sideways Rifle and Sideways Minigun were unvaulted until May 24th, 2022. With Cube Monster Parts no longer being in the game, players are still able to upgrade both weapons by heading to an upgrade bench.

There was another funding round that gave players the chance to spend gold bars to fund the item they wanted to see a return to the game. The options were Shield Bubbles and Balloons, with the latter being 100% funded yesterday.
There wasn't a new Fortnite update expected to release until the new season, chapter 3 season 3. However, Epic Games announced that a new downloadable update was being pushed live.
3.57 May 20 Fortnite Update Patch Notes
The Fortnite Status Twitter account tweeted that a new maintenance Fortnite patch update was being released for PC, PS4, PS5, Nintendo Switch, and Android devices.
As expected, there's no new content in the new downloadable patch, but we still have much to look forward to before the season ends. An Obi-Wan Kanobi skin should be released at some point during this season.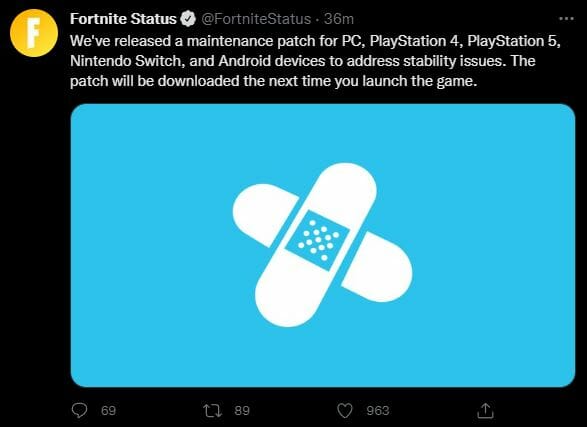 According to data miners, we should also be getting a live event to cap off the season, which makes sense considering there's a massive dooms day device located near Tilted Towers.
Data miners don't leak anything related to events, but a couple of hours before a scheduled event, the files are decrypted and some data miners with a smaller following on social media will leak whatever they can. When it draws closer to the event which we don't have a confirmed start time for, we'd recommend staying off social media, Twitter in particular.