Epic Games has released a new Fortnite update today, 3.59, across all platforms.
Fortnite chapter 3 season 3 was released ten days ago, and we had our first batch of content with yesterday's hotfix content update. Prior to the update, Epic released a server-side update that introduced some balance changes.
The Two-Shot shotgun received a buff with the pellet damage being increased, the amount of recoil of the Hammer Assault Rifle was reduced, The damage of the Combat SMG was reduced, and finally, the Striker Burst Rifle has an increase in recoil and a reduction in damage.

In yesterday's Fortnite update, the Grapple Glove was introduced. It was originally leaked when the new season launched, which made it highly likely it would be added to the game before the next major patch update.
The Grapple Glove works similar to Spider-Man's Mythic Web-Shooters. It allows players to travel around the map quicker by swinging onto objects around the map.
Unlike Spider-Man's Web-Shooters, the gloves also allow players to grapple items towards them. The introduction of the gloves also introduced Grapple Stops and Grapple Glove Toolboxes.
On June 15th, 2022, Epic Games released a brand new Fortnite update, a maintenance patch.
What's new in Today's 3.59 Fortnite Update
As you'd expect, there's nothing new in today's 3.59 Fortnite update. The Fortnite Status Twitter account tweeted out that Epic deployed a new maintenance patch to address stability issues, and the update should now be available to download across all platforms.
Here's the tweet: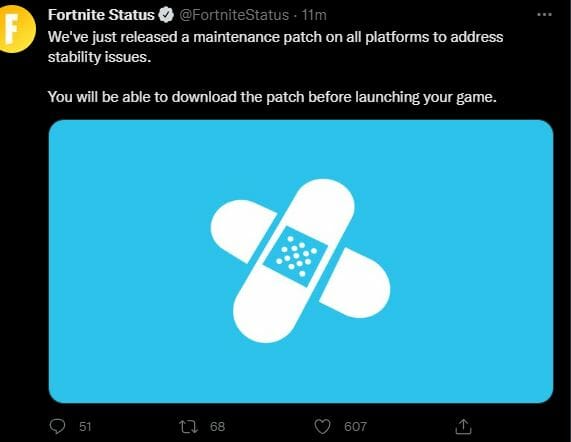 One of the issues that have been fixed with the 3.59 Fortnite update is a problem with the DMR where if players are crouched or close to objects, they may aim down sights as if they were standing or seeing through the object.
For the next batch of content, we'll need to wait until the next major patch release, v21.10, which is scheduled to release next Tuesday.