Epic Games have released a new Fortnite update today, v3.08 on PlayStation, along with a patch update for Xbox.
Earlier in the week, Epic Games released the final update of the season, v15.50. As we've come to expect from updates this season, there wasn't much in the form of new content. A weapon was unvaulted with the Hand Cannon being placed back into the vault, and there were some improvements to Fortnite Creative.
The update included some new files for the Zero Point including files that suggest the Zero Point might make changes to the voice chat. There were also some destabilize reality wave pulses and sound files added for the Zero Point.
However, it looks like there won't be a live event for the end of Fortnite chapter 2 season 5. The Zero Point will likely change appearance as the season draws closer to an end, and will likely affect gameplay, but it's unlikely there will be a live event.
The v15.50 update also added in the Fortnite season 6 starter pack, but we'll cover that in more detail in a future post. Although Fortnite chapter 2 season 6 is two weeks away, Epic Games have released a new Fortnite patch update today.
New Fortnite Update – What's New?
Unfortunately, there was nothing new added in today's new Fortnite update. There were no leaks or any features or changes in today's update. The update was a simple maintenance update that improves the game stability on PlayStation 4, Xbox One, Xbox Series X|S, PlayStation 5, and PC.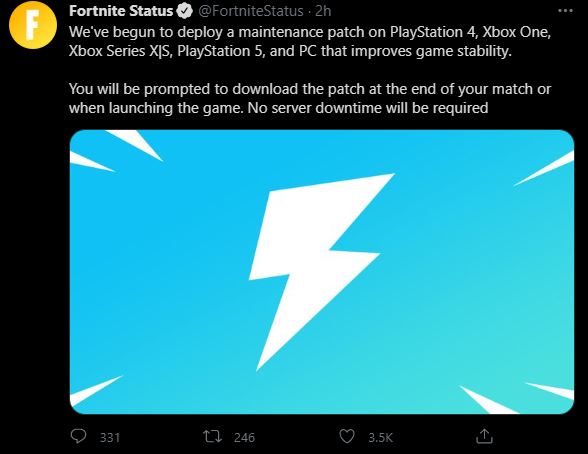 The new update also fixed an issue with players on GeForce NOW with players not be able to change their video settings.
We won't be getting any new major Fortnite update before the new season starts, but there's always a chance Epic will push out a maintenance update. We should see the usual teasers released on social media in the build up to Fortnite Chapter 2 Season 6, and we'll be covering them all here at Fortnite Insider.