It looks like we do have a Fortnite update today and a new fortnite gun is available, the Harpoon Gun. As is the norm this chapter and season, there are no Fortnite patch notes.
Epic Games usually update Fortnite on Tuesday, although there have been a number of Wednesday updates in the past. Before any update, Epic announce the time and date of the update the day before, but there was no update announcement yesterday.
However, it seems like Epic have released a Fortnite update today. In a Save the World roadmap blog post, it states that were will be two v11.10 content updates. Content updates require no downtime and are usually released at 8 or 9am ET.
In the v11.10 Fortnite patch update, dataminers leaked a new weapon that would be coming to the game, the Harpoon Gun. Players have started finding the Harpoon gun in game and players have posted the stats of the weapon on Reddit.
Fortnite Harpoon Gun
It looks like the Harpoon Gun deals 75 damage when you manage to successfully hit a player with it. You'll pull a player towards you and deal 75 damage. The magazine size for the gun is 10 and the reload time is 1.4 seconds.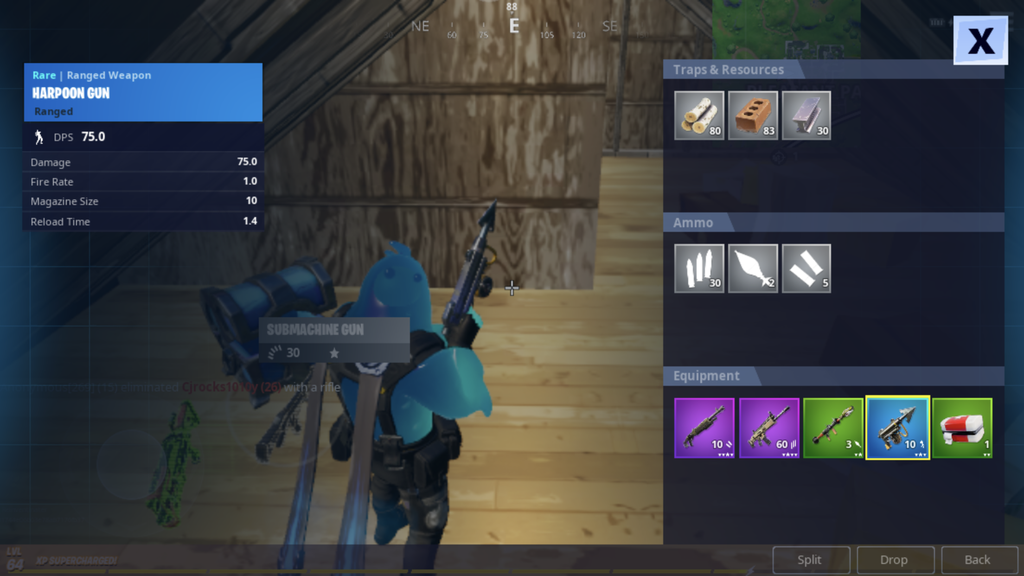 A new achievement was also leaked last week for the Harpoon Gun. The Achievement is called "YOINK!", and in order to complete the achievement, players need to immediately eliminate an opponent after they've pull them with the gun. As the new gun is now in the game, players will be able to complete the achievement.
Fortnite Patch Notes
There's no official Fortnite patch notes from today's update with Epic Games for whatever reason deciding not to bother posting them. If new items and weapons have been brought back from the vault or nerfed, we'll be sure to post our unofficial patch notes as soon as we can.
Harpoon Gun Fortnite Video Gameplay
Here's some gameplay of the Harpoon gun. As you can see, although the gun is a type of grappler weapon, it doesn't work like as a mobility item like the grappler gun did.
So, yes. A Content Update was pushed out at 8am EST (19m ago)

This introduces the Harpoon Gun, it does 75 Damage to players and has 10 Shots, acts similar to a Grappler but doesn't actually include mobility.

Gameplay is tagged below

— Fortnite: Battle Royale Leaks (@FNBRLeaks) November 5, 2019
Players will also be able to fish with the new item, making a much better alternative to fishing rods due to the high damage you can deal with the item.