Dataminers leaked the Harpoon Gun from the v11.10 Fortnite update. Here's everything we know about the upcoming weapon including an achievement.
Every major Fortnite update comes with leaks. Dataminers leaked a number of upcoming cosmetics from the v11.10 update along with challenges, loading screens, and an upcoming weapon that'll be added to the game in the near future.
Before the end of Fortnite season 10, Epic didn't add a new item or weapon for the last three weeks. So far, Epic haven't added a new item to the game since the launch of Fortnite Chapter 2. The launch of Chapter 2 didn't include any new weapons, but it did add new variants for existing weapons. Players seem to be happy with the current meta for the most part, although a common complaint is the lack of items to travel around the map.
Fortnite Harpoon Gun Leaked
The weapon that was leaked from the v11.10 files is the Harpoon Gun. According to dataminers, the weapon will be of rare rarity and the description of the item is "pulls enemies to you and deals damage".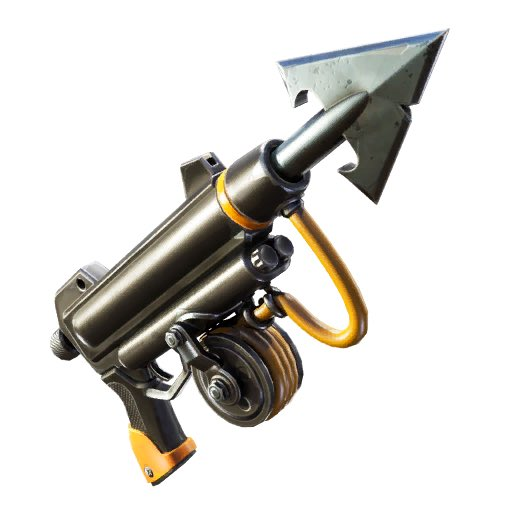 There's also an achievement that was added in v11.10 for this weapon. The achievement is called "YOINK!", and in order to complete the achievement, players will need to immediately eliminate an opponent after they've pulled them with the new item.
It's likely we'll see this weapon added in the next update which will likely be the v11.10 content update. We could see Epic announce that this item will be coming in the MOTD (message of the day) like they used to in previous seasons. As always, we'll keep you updated if the news feed updates to tease the arrival of this item.