Epic Games have announced the time and date for the v9.41 Fortnite content update.
Earlier today, the in-game news feed was updated to announce the next item that'll be coming to Fortnite Battle Royale, the Storm Scout Sniper Rifle. The new sniper rifle was leaked by dataminers and Epic accidently added the weapon in creative.
The official description provided by Epic in the news feed for the weapon is "Knowledge is power. Stay ahead of the competition with this weather-tracking sniper rifle." Here's an image of what the sniper rifle looks like: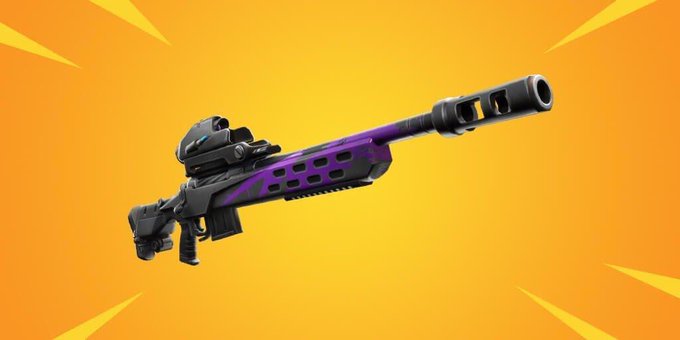 The sniper rifle will come in two rarities, epic and legendary. The Epic version will deal 81 damage whilst the legendary version will deal 85 damage. Both rarities have a fire rate of 0.9 along with a magazine size of 6 bullets. The reload time will 2.85 and 2.7 seconds respectively, and the weapon will take heavy bullets.
As given away by the name, players will be able to use the weapon to track players that are in the storm, a unique feature to the weapon.
Epic took to Twitter to announce that the v9.41 update will be released on Tuesday, 23rd July at 8 AM ET (12 PM UTC). The update will require no downtime and the Storm Scout Sniper Rifle should be available at exactly 8 AM ET, although with content updates, sometimes it takes over an hour for the weapon to actually be added to the game.
There's a chance we could see a sniper rifle enter the vault to make room for the new rifle, and a number of players, especially pro players, have been asking for the heavy sniper rifle to be vaulted. We'll have to wait for the patch notes to release to know if any sniper rifle is vaulted.
Epic will likely release or at least mention the Overtime challenges that were leaked in the v9.40 update. It's also possible we see Fortnite's second birthday event mentioned in the v9.41 patch notes or a blog post outlining the event as the second birthday falls on Wednesday, 24th July.
As always, we'll keep you updated with the latest update along with any other news that Epic release tomorrow. Be sure to follow us over on Twitter @Fortnite_BR and turn on website notifications.