Here are all the Fortnite xp coin locations for week 15 in chapter 2 season 5.
Earlier in the week, Epic Games confirmed that Fortnite chapter 2 season 5 will be concluding on Tuesday, 16th March. Players will have the chance to participate in a the Zero Crisis Finale. Once Fortnite chapter 2 season 6 starts, players will be able to play through Agent Jones' mission in the Zero Crises Finale.
There will also be a chance to watch the Zero Crisis Finale online first, and Epic will provide more details soon as to when and how players can watch the global premiere with everyone.
Although there's only five days left of Fortnite chapter 2 season 5, we still have the usual seven weekly Epic quests/challenges to complete. The week 15 challenges are straightforward with players being tasked with hiring a character, getting intel from a character, spending bards, sand tunneling within 20 meters of enemies and more.
We also have one final set of xp coins for week 15 to help players progress their Battle Pass and level as much as possible before the season ends.
Fortnite week 15 xp coins
As usual, we have a total of four green xp coins, three blue, two purple, and one gold coin. Here's the breakdown for how much XP you get from each coin:
Green: 5,000 XP
Blue: 6,500 XP
Purple: 10,300 XP
Gold: 15,000 XP
As usual, all of the blue coins will be found in the water around the map. The purple xp coins still break into smaller coins, and you'll need to collect them all before they disappear. The gold xp coin can be found south of the desert biome.
Here's the week 15 xp coins locations map: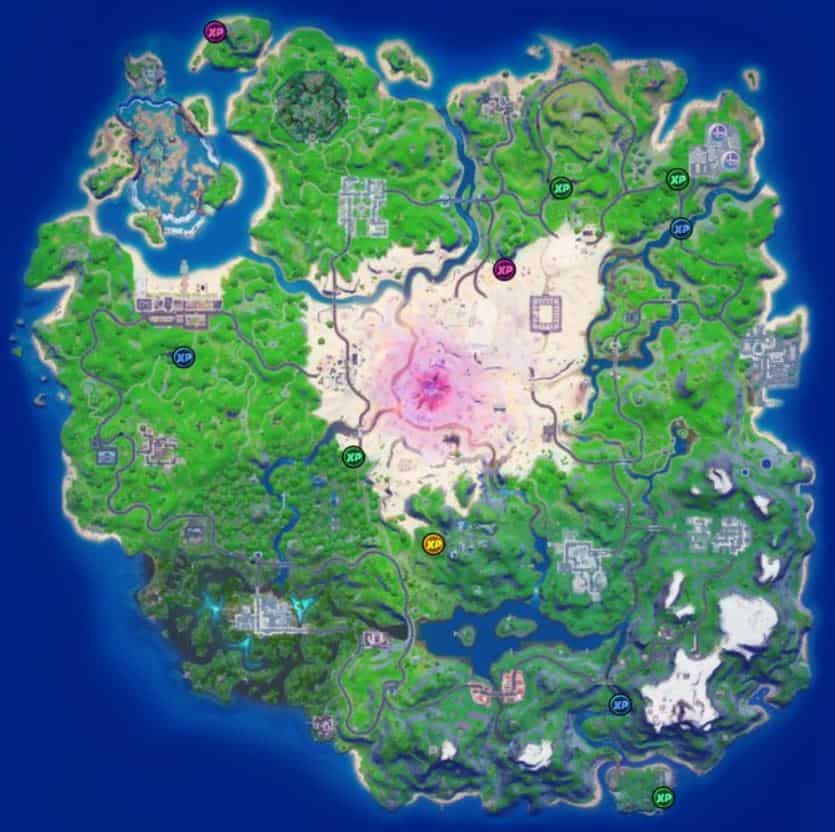 We'll likely release a post on the weekend outlining all of the Fortnite XP coin locations in chapter 2 season 5 to help you collect them all before the season ends.