New Legendary quests Fortnite challenges are available to complete. One challenge requires players to place boomboxes in Believer Beach. Here's the locations of where to complete the challenge.
For the first two weeks of Fortnite chapter 2 season 7, the Epic challenges / quests were available to complete. However, Epic stated that they would go back to releasing on Thursdays.
However, the Legendary quests have been releasing every Wednesday and Epic have confirmed it will remain this way for this season at least. The week 3 legendary challenges are now available to complete.
One of the challenges requires players to place boomboxes at Believer Beach. Here's a guide on where and how to complete the challenge as quickly as possible.
Where to place Boomboxes in Believer Beach
There are three different locations where you can complete the place boomboxes in Believer Beach in challenge. In order to complete the challenge, you'll need to place a total of two boomboxes.
Here's a map of the three locations where you can complete this challenge in Believer Beach along with a detailed breakdown of each location thanks to FN_Assist on Twitter.
Boomboxes Fortnite Location 1
You can find the first boombox on the east side of the newly named location. It's on the beach next to beach chairs. Here's what it looks like in-game:
Boomboxes Fortnite Location 2
The second location is west of the location above. It's near the stage of the welcome party that's been added for the Cosmic Summer Celebration Fortnite event. You'll find the outline of the outfox by a table and a telescope. Here's the in-game location image: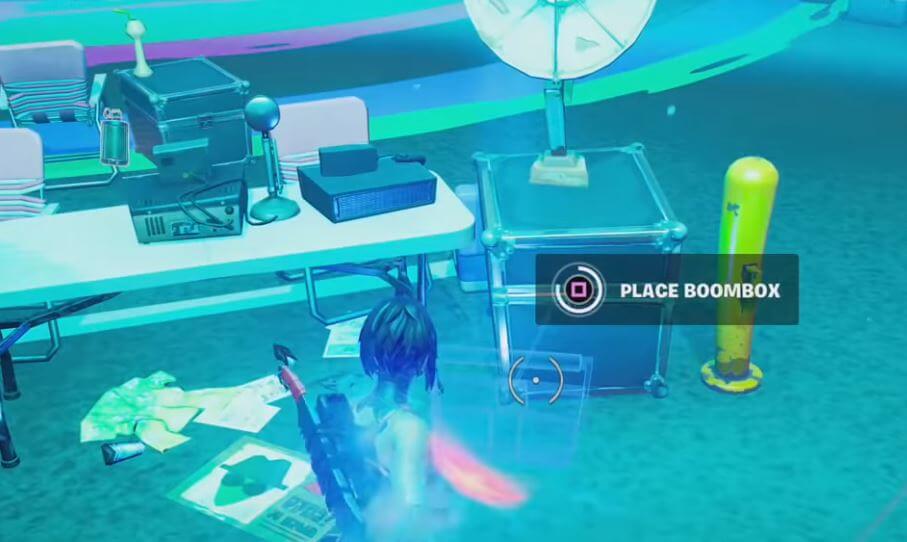 Boombox 3
The third and final location where you can find and place a boombox in Believer Beach can be found next to a lamppost that's located near a bus and a fence with the welcome party decorations on it. It's in front of the RV Park that's towards the south side of the location.
We're not sure if someone completes this challenge before you if you can still place a boombox at the exact same location. We recommend trying to get this done as soon as you jump from the battle bus in order to avoid any issues completing the challenge.
Once the challenge is completed, you'll be rewarded with 30,000 Season 7 XP. With the Summer Cosmic event live and more challenges to come that'll provide players with 20,000 to 35,000 season 7 xp, it should be fairly easy to level up in the next couple of weeks.