Here's everything you need to know about Fortnite Wild Week 3.
Epic Games announced the first Fortnite Wild Week via blog post and YouTube video two weeks ago. Fortnite Wild Weeks changes up the way players can play Fortnite with emphasis on certain play styles. A an item or weapon is usually unvaulted for a week until the next Wild Week.
A new Fortnite Wild Week begins at the same time the new weekly challenges/quests release. The first week saw fireflies and flame bows given a high spawn rate along with the Flare Gun being unvaulted. The legendary quest for the week was setting structures on fire, and each week the wild week compliments the legendary quest.
In week 2, Epic Games increased the duration of how long fishing spots remain for along with increasing the chance of catching rare fish more often. Any weapons that were found from fishing spots during the fish fiesta were rare rarity or above. Finally, pro fishing rods spawn rate was increased.
With the release of the Fortnite chapter 2 season 6 week 10 challenges, Epic Games have introduced Fortnite Wild Week 3.
Fortnite Wild Week 3
Bouncing off the walls is Fortnite Wild Week 3. During this week, players will discover the chance of getting hop floppers has increased significantly. There's also more shockwave grenades and shockwave bows that you'll find during this week.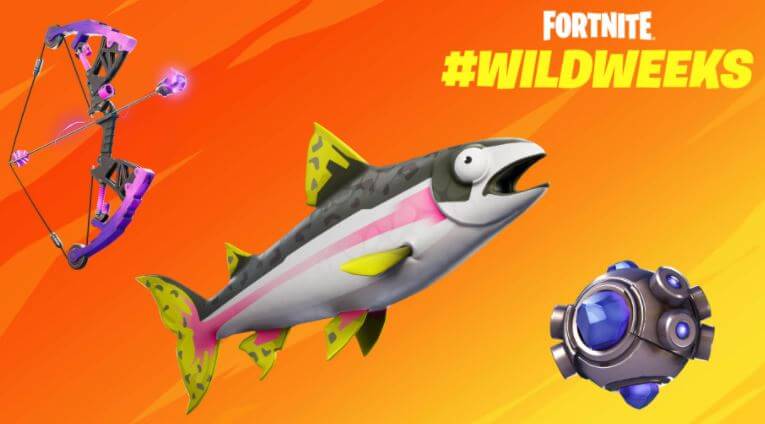 Fortnite Bouncer Unvaulted
This weeks unvaulted item for Fortnite Wild Week 3 are bouncers. The bouncer in Fortnite was added back in chapter 1 season 4. They can be placed anywhere on a player-owned structure. They negate fall damage and is a great way to avoid tricky situations against opponents.
The max stack size for bouncers is 3 and they are of rare rarity. They can be found as floor loot, chests, supply llamas and supply drops. They were vaulted at the start of this season after being unvaulted in chapter 2 season 4.