Fortnite Wild Week 4 is here. Here's everything you need to know.
Epic announced Fortnite Wild Week four weeks ago with a YouTube video and blog post. Fortnite Wild Week changes up how players approach the game. Wild Weeks usually change up the spawn rate for certain items and we usually see a weapon or item returning from the vault. We've already had three wild weeks.
The first week increased the spawn rate for fire items and weapons with the Flare gun returning for a week. Fire did more damage than usual and spread faster. Week 2 was all about fishing. Fishing spots remained for longer, all weapons from fishing spots were rare or higher, and there was an increased chance in catching rate fish more often.
Week 3, which concluded recently, saw the bouncer returning from the Fortnite vault along with other mobility items seeing an increase in spawn rates including Hop Floppers, Shockwave Grenades, and the Shockwave Bow.
All of the Wild Weeks complement the legendary challenge for that week. Wild Weeks go live when the new challenges drop, and they assist players in completing the challenges.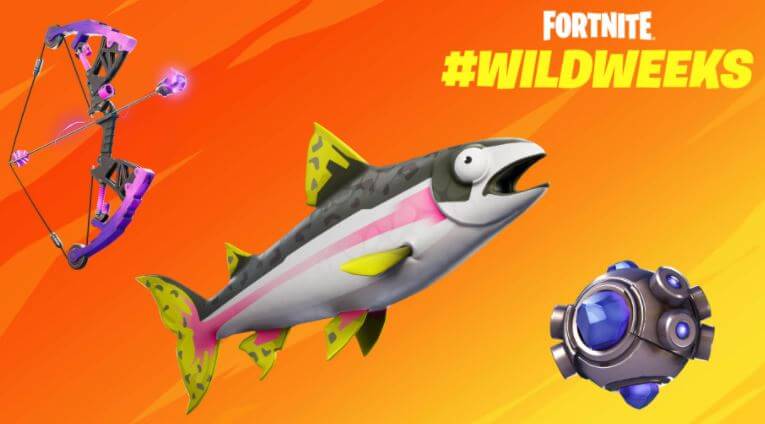 Fortnite Wild Weeks 4 is now live in-game and here's everything you need to know.
Fortnite Wild Week 4 Bargain Bin
We're drawing to the close of Fortnite chapter 2 season 6 and players need to spend their gold bars before then. All exotics until the end of the season are 50% off. Here are the new prices for Exotic weapons, intel, and more.
Intel & Services
Storm Circle Intel: 85 Bars
Prop Disguise: 35 Bars
Rift To Go: 120 Bars
Exotic weapons
Shadow Tracker Pistol: 200 Bars
Hop Rock Dualies: 250 Bars
Chug Cannon: 300 Bars
Grappler Bow: 250 Bars
Marksman Six Shooter: 200 Bars
Unstable Bow: 250 Bars
The discounts from characters in Fortnite will last until downtime begins for the new season, Fortnite chapter 2 season 7.