Here's what we know about the Christmas event this year, Fortnite Winterfest 2020, including a start date, a free skin, and more.
UPDATE: added link to the bottom of the article of where to find snowmando outposts
Epic Games first introduced a Christmas Fortnite event with 14 days of Fortnite. There were brand new Christmas-themed Fortnite skins making their way into the item shop on a daily basis. Players could also complete one new challenge each day in order to unlock a free cosmetic.
LTMs were rotating in and out of the playlist and there was one weapon unvaulted for 24 hours. Last year, Epic moved away from the 14 days of Fortnite title and introduced Fortnite Winterfest. During Fortnite Winterfest, players could complete challenges to unlock cosmetics as well as getting free gifts.
A Winterfest Fortnite cabin was introduced which players could access through the lobby. Each day, players could unwrap a new present, all of which were free cosmetic rewards. However, the larger cosmetics couldn't be opened until later on.
The free cosmetics included the Ornament Soldier and Wooly Warrior skins, Treefall and Millenium Falcon gliders, Shortbread slicers and peppermint pick pickaxes, New Year 2020 and Well Wrapped Wrap, Snowshaker emote, The Sith back bling, Holly and Divey contrail, and some lobby music packs, and loading screens.
Fortnite Winterfest 2020 is around the corner and we already have some early information including a possible free skin reward along with some predicted start times for the Christmas event.
Fortnite Winterfest 2020 Start Date
There's no official announcement as to when the 14 days of Fortnite 2020 Christmas event will begin. We don't even know whether Epic will go back to the 14 days of Fortnite title, or whether they'll call in Fortnite Winterfest 2020.
What we do know is that last years Christmas Fortnite event started on December 18th and ended on January 7th which was the last day players could open whatever presents they had left. There's a good chance we see this years Winterfest event start a little earlier. This is based on the fact the next Major Fortnite update will be on the 15th or 16th December.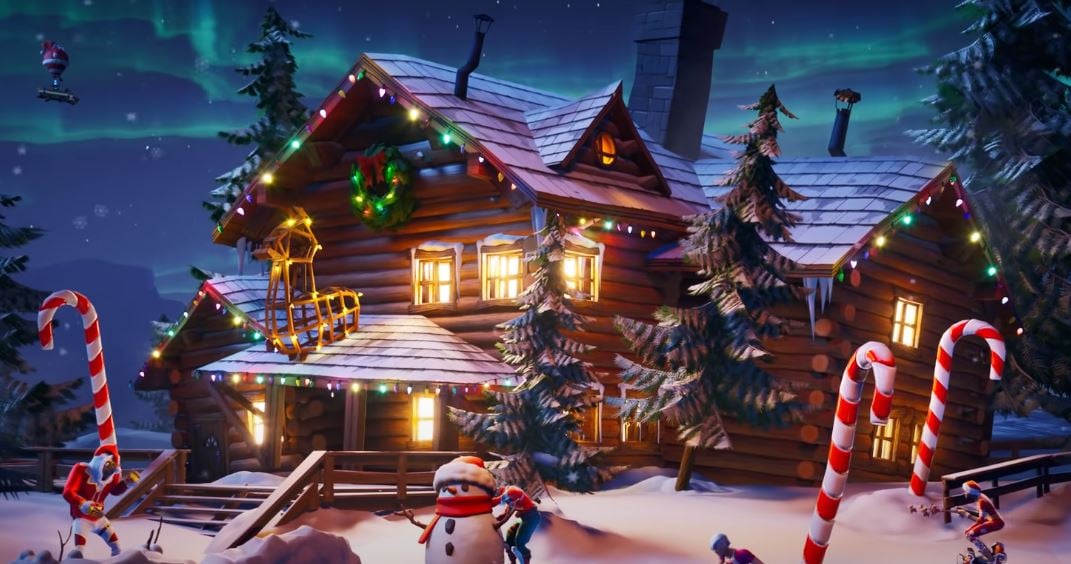 Based on that, expect the Christmas event to start on either Tuesday, December 15th or Wednesday, December 16th. We'll know more next week, and we'll be sure to keep you updated on all the latest news.
Fortnite Winterfest Christmas Holiday Event
Snowmando NPC (Character)
Prior to Fortnite season 5, there were a number of leaks regarding the season which turned out to be correct. One of the leaks from the end of October stated that there's a chance we'll be getting a snowman NPC.
From the v15.00 Fortnite update, data-miners leaked a Snowmando skin which could also be the snowman NPC that data-miners leaked. According to those leaks, the NPC will grant you a request, it'll have conversations with you, and can explode or spawn loot for you. Remember, this was before the launch of season 5 and we already know NPCs can interact with you and provide you with quests which makes this leak very reliable.
Christmas Flopper
It seems Epic love adding in new floppers, especially at the start of the season. We already have a few new floppers in Fortnite season 5 including the Zero Point hopper which works exactly like the Zero Point Crystals found in the middle of the map around the exposed Zero Point.
A Christmas flopper was added in the v15.00 update and will apparently heal 15 hit points when consumed. There'll be a max stack of five and according to a leak from data-miner FortTory, the flopper will actually be called Snowy Gift Fish and the description is "eat this to bring on the holiday gifts".
Based on this, we can assume this will work like the presents item that Epic Games add in during the festive period. Once throw, the present item provided players with the best weapons and heal items. I'd assume once you eat the Christmas flopper you'll get a bunch of loot. We should see this introduced on the first day of Fortnite Winterfest 2020.
Sounds
The v15.00 Fortnite udpate included new audio files for the Christmas Fortnite Winterfest 2020 event. The leaked audio confirmed we'll be getting Frozen Ice Boxes back that we saw in the previous Fortnite Winterfest event including Frozen Loot.
Upcoming Winterfest Sounds! Looks like we'll get some sort of Frozen Loot and Ice Machine. pic.twitter.com/p8TnEOxej1

— PeQu – Fortnite Leaks (@PeQuLeaks) December 3, 2020
Data-miner VastBlast also leaked a Christmas-related string that was added, "It's that time of year again! Time to decorate trees, sing holiday songs, and… resolve hostage situations?" It seems like we'll get getting some sort of challenge according to the leaked string.
Winterfest Rewards & Challenges
We don't know what the Fortnite Winterfest challenges or quests will be for 2020, nor do we know for certain what the rewards will be. However, data-miner ShiinaBR pointed out that the leaked Snowmando skin from the v15.00 update doesn't have an item shop source tag.
That means we could see Snowmando as one of the Fortnite Winterfest 2020 rewards. With Epic providing two free Fortnite skins last year, I'm sure they're planning to go bigger and better this year, and Snowmando could be one of the free rewards we get from presents.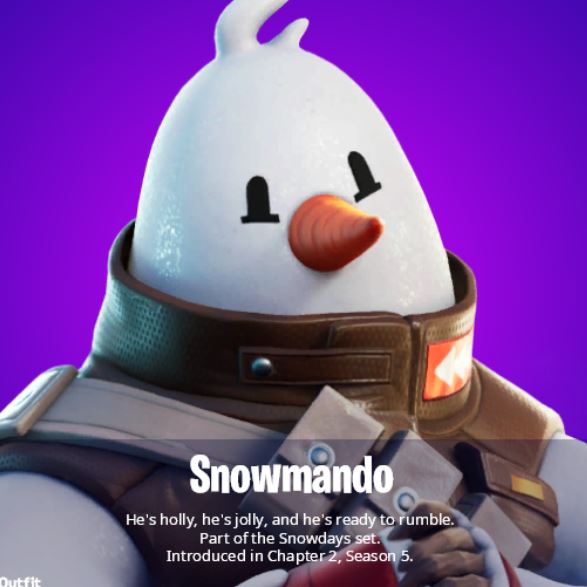 Apart from that, expect a Christmas-themed Battle Bus along with some Christmas decorations around the map. There's no doubt one of the Winterfest 2020 challenges will require players to dance and visit all the Christmas trees that are added to the map.