Here's how players can complete the first Fortnite Winterfest challenge, Search Holiday Stockings in the Winterfest Cabin.
The Christmas Fortnite event for 2019 is finally here. This years Christmas event is called Winterfest and has many similarities to last years 14 days of Fortnite event.
During the event, a different weapon will be unvaulted each day as well as an LTM returning each day includes Wick's Bounty, Arsenal, and many more. As with last year, there's 14 free challenges, all of which provide players with a free cosmetic reward each day.
Epic have also added a brand new feature this year with the introduction of the Winterfest cabin. You can enter the cabin and unwrap a new, free present at the lodge each day. Inside the presents are two outfits, two gliders, two pickaxes, two wraps, one emote, and much more.
One of the first challenges for Winterfest is to search holiday stockings in the Winterfest cabin. If you're not sure how to do that, here's how.
How and where to search Holiday Stockings in the Winterfest Cabin
In order to enter the Fortnite Winterfest Cabin, players need to be in the Fortnite lobby. In the top bar between 'Play' and 'Battle Pass', you'll see a snowflake. Click the snowflake.
Once you're there, you'll see visit lodge at the bottom right of the screen, click/press it to visit the Winterfest Cabin Lodge.
Click the Holiday Stocking that's to the left of the fireplace.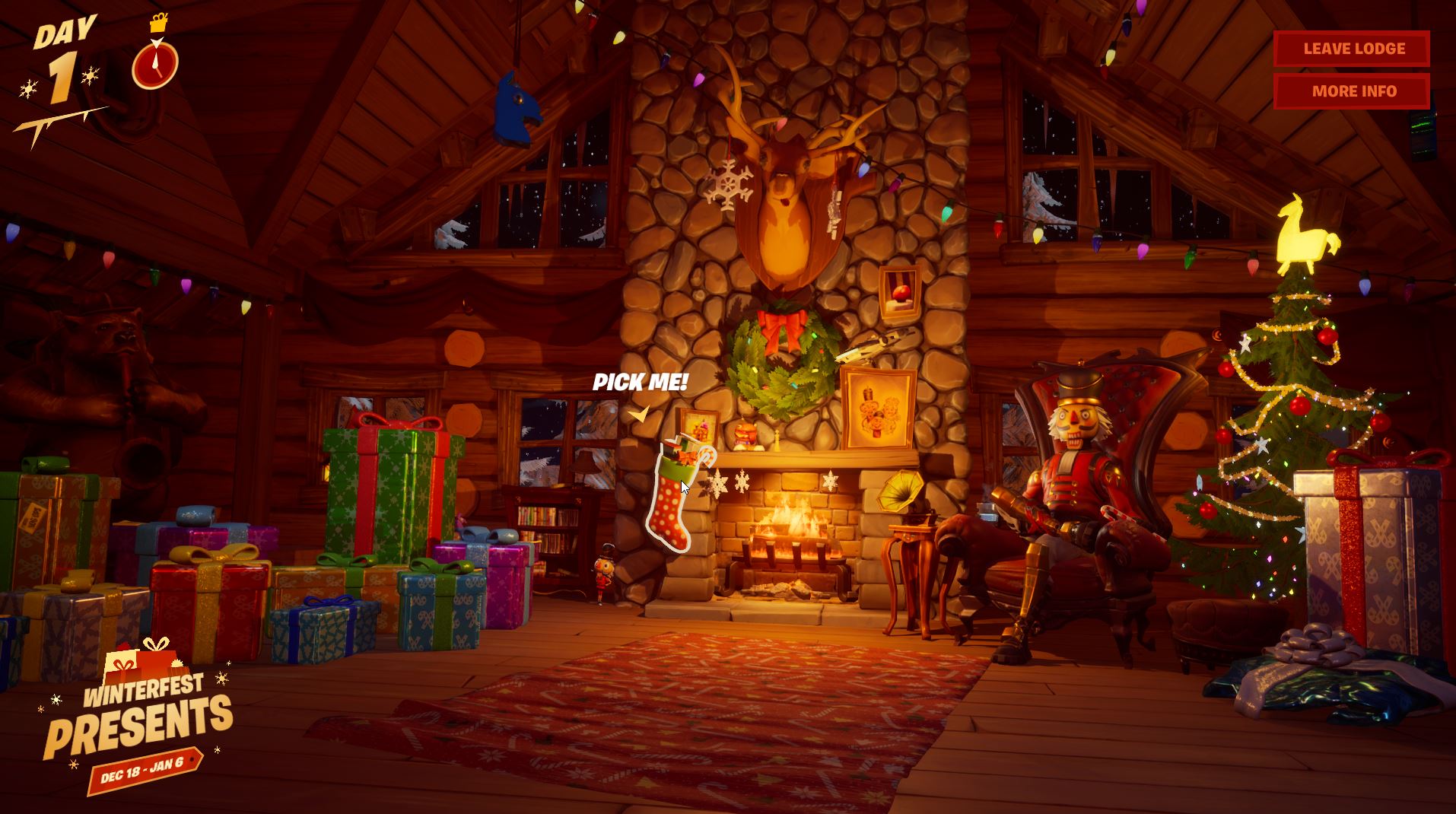 You'll then unlock the challenge. There's a possibility that this challenge is randomly selected. However, upon searching the holiday stocking, the challenge unlocked was "deal damage to opponents with a Snowball Launcher".