It looks like we're getting a Monopoly x Fortnite collaboration soon.
The new season of Fortnite, chapter 2 season 8, launched last week on Monday, 13th September. A week into the new season, Epic Games had already announced their first collaboration of the season, Balenciaga.
The collaboration includes Balenciaga Fortnite skins and other cosmetics available to purchase in the Fortnite Item Shop along with two quests and free rewards. The quests are extremely easy to complete and can only be done in creative, and both the rewards are Balenciaga sprays.
A few days later and we now have new leaks from data-miners revealing the next collaboration, Fortnite x Monopoly. We don't know the full details of the collaboration yet and it'll likely remain that way until we have an official announcement from Epic. However, data-miners have leaked some items from the Monopoly Fortnite collaboration and here's what we know so far.
Monopoly Fortnite Collaboration
We don't know anything about the collaboration from the Epic Games insider, but data-miners have leaked a number of monopoly tokens/pieces Fortnite back blings. Here are all the Monopoly Back Blings in Fortnite:
Scottie Dog
Rubber Ducky
Hazel
T-Rex
Penguin
Racecar
Top Hat
Battleship
Based on the leak, it looks like these will be available in the item shop at some point in the future. We don't know anything else about the collaboration until Epic Games make an official announcement. There's a chance we'll only get a blog post about this collaboration once the back blings are available to purchase.
Here's a look at all of the Monopoly back blings: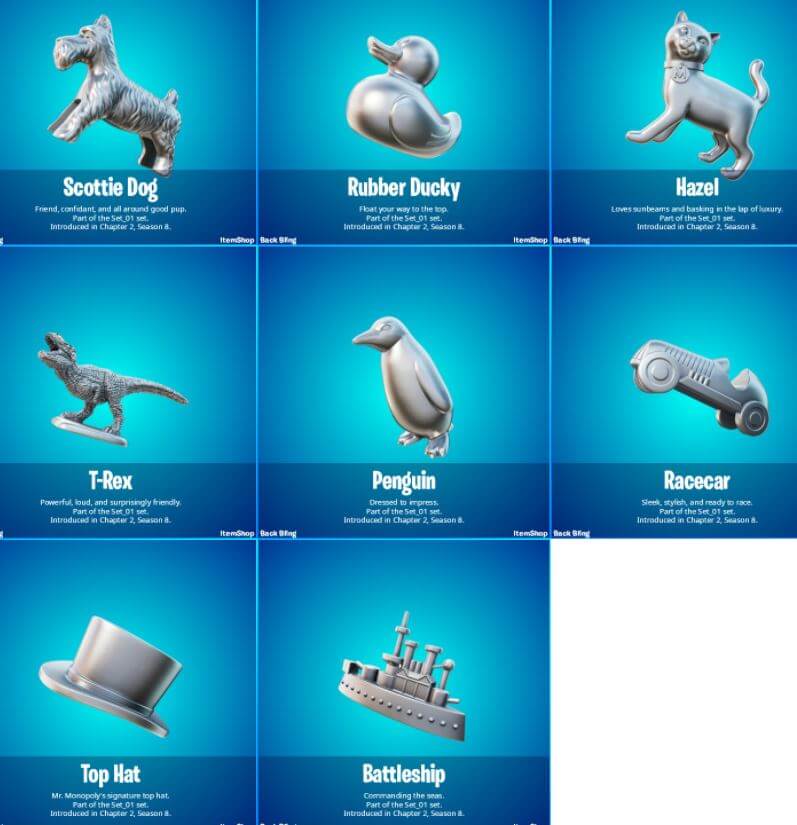 We'll update this if there is any official information released or if data-miners provide more information. Let us know in the comments section below if you'll be purchasing the back blings. We're guessing they'll be available as a pack and not individually.