We're getting yet another collaboration, Fortnite x PAC-MAN.
When we had our very first collaboration in chapter one, there was a lot of hype surrounding it along with some of the other collaborations that came later on in the first chapter.
Since chapter 2, Epic Games have been pushing out as many collaborations as they can. It's at the point where they no longer feel special, and for the most part, there's no hype around them.
We now have collaborations as part of the Battle Pass along with several being announced each season. We've already had more than eight announcements so far in season two, and we have another one.
There were rumors a PAC-MAN x Fortnite partnership would be coming soon, and an official announcement has now been posted on Twitter with a release date with more details to come in the future.
PAC-MAN x Fortnite Skin?
Data miners found a blog post for the PAC-MAN and Fortnite partnership a few hours ago. As expected, there won't be a PAC-MAN Fortnite skin for obvious reasons, but they're still will be cosmetics that'll be available in the item shop.
There are no images or further information on the cosmetics that'll be available nor are there any other details apart from the release date.
Fortnite PAC-MAN Release Date
The release date for the PAC-Man Fortnite cosmetics is June 2nd, 2022. Here's the official tweet from the Bandia Namco Twitter account: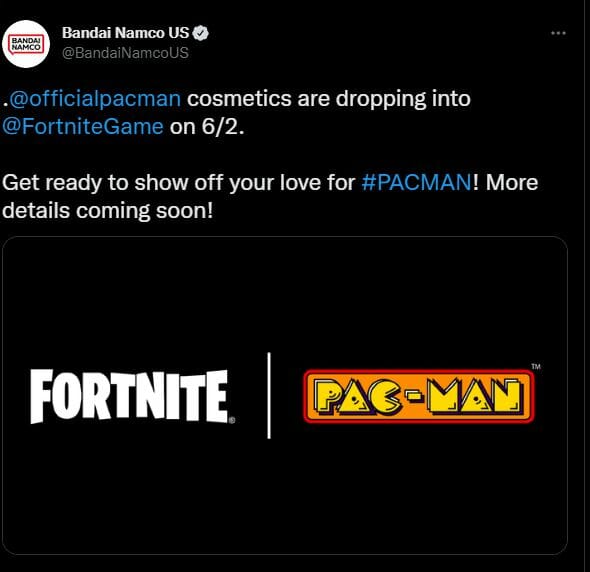 We'll likely get more information next week, so be sure to check back with the latest Fortnite news. We should getting news on the live event that'll take place before the new season along with an official release date for season three.