Epic Games have announced the Fortnite x Star Wars Skywalker week. Here are all the details for the event.
The Fortnite v22.30 update went live today. Prior to server downtime, popular Fortnite leaker, ShiinaBR, stated that three "beloved" characters would be added to the game in the new patch.
He went on to mention that other in-game surprises would be added to the game. During downtime, leakers data mined the new files that were added with the new update.
A new event was leaked, Fortnite x Star Wars Skywalker week. As expected, three new Fortnite Star Wars skins were leaked along with other cosmetics including an R2-D2 back bling.
Fortnite's Skywalker week also sees the return of previously released Star Wars items. Here are the full details of the latest collaboration.
Fortnite Skywalker Week Lightsabers Return
The Skywalker Fortnite week is live and will run until November 8th, 2022. Players can complete special quests for XP which can be completed by using Star Wars items.

Both Luke's blue lightsaber and Luke's green lightsaber can be found in the game. The blue lightsaber can be found in imperial chests found around certain areas of the map.
The green lightsaber can be found on the ground and in regular chests. Darth Vader's lightsaber has also been unvaulted and can be obtained by defeating the Darth Vader boss. Unlike the other lightsabers, players can throw Darth Vader's lightsaber.
As is the norm when there's a new Star Wars x Fortnite collaboration, the E-11 Blaster Rifle has also been unvaulted. Stormtroopers also make a return to the map and players can exchange gold bars in order to get their hands on the blaster.
They can also be found on the ground, in imperial chests, and in regular chests. Finally, the Junk Rift has also been unvaulted for Skywalker week. This week, there's a chance using a Junk Rift will drop Luke Skywalker's X-34 Landspeeder.

Luke Skywalker, Leia Organa, and Han Solo Fortnite Skins – R2-D2 Back Bling
The original Star Wars Fortnite trilogy set expands with the release of Luke Skywalker, Leia, and Han Solo. There's also a R2-D2 back bling that can be purchased.
Here's a full list of cosmetics added today:
Luke Skywalker Outfit: Force-sensitive farmer and galactic hero.
Training Remote Back Bling: You better get on with your exercises. (Included with the Luke Skywalker Outfit.)
Slugthrower Rifle Pickaxe: Trusty rifle to have at your side while navigating the Jundland Wastes.
X-34 Landspeeder Glider: Ever since the XP-38 came out, they just aren't in demand.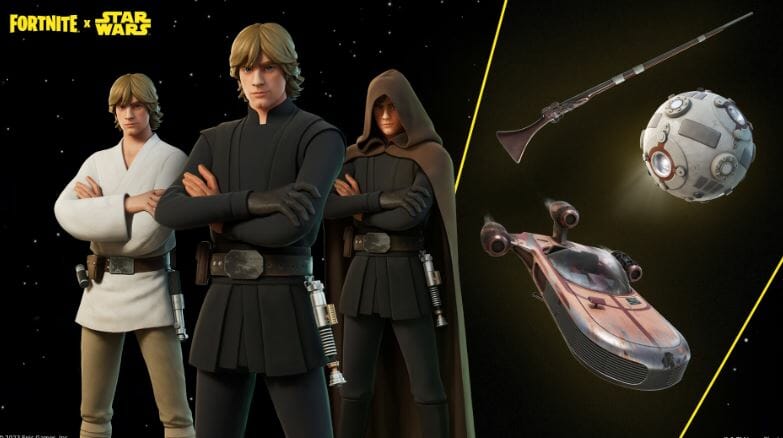 Leia Organa Outfit: Princess. Senator. Rebel. Icon.
R2-D2 Back Bling: Plucky astromech droid. (Included with the Leia Organa Outfit.)
Electrostaff Pickaxe: One of many weapons in a bounty hunter's arsenal.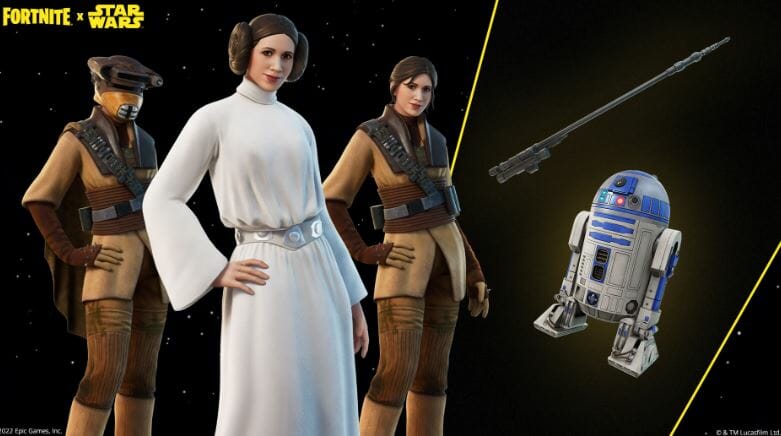 Han Solo Outfit: Smuggler. Scoundrel. Scruffy-looking nerf herder.
Millennium Falcon Back Bling: She may not look like much, but she's got it where it counts, kid. (Included with the Han Solo Outfit.)
Vibro-staff Pickaxe: Boba Fett™? Where?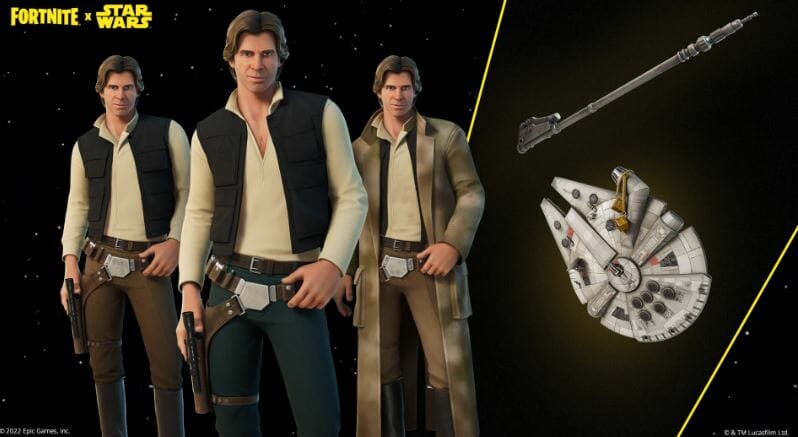 Here's the Fortnite Skywalker week trailer: