The Fortnite API has updated to suggest that the Fortnite Zone Wars LTM's will return in the near-future.
Epic Games released Zone Wars Skins and LTM's in September of this year. There were four different fan made Zone Wars that were available as LTM's. The Fortnite skins that were released with the original release of Zone Wars was Hot Zone and Danger Zone. These skins had their own challenges for players to complete.
There was a total of five different Zone Wars challenges that players could complete. Upon completing them, players would receive free rewards including season XP, a spray, and two different back blings.
There's currently no information as to whether the free Fortnite Zone Wars challenges and rewards will return, but here's everything you need to know.
Fortnite Zone Wars
There are four Zone Wars LTM's that will be available, the same ones that were released in September.
Zone Wars: Colosseum
This map was created by Jesgran. The island is quite open, which demands players to build quickly. As given away by the name, the island is Colosseum-like.
Zone Wars: Desert
This island is a small desert town created by JotaPeGame.
Zone Wars: Downhill River
In this island, you'll need to stay out of the storm as you're moving downhill through a river.
Zone Wars: Vortex
Mountainous terrain with an elevation change zone to zone.
Creative Codes
Desert Zone Wars: 1811-9621-1739
Downhill River Zone Wars: 6564-6863-3031
Vortex Zone Wars: 9310-1401-9904
Colosseum Zone Wars: 7058-7590-2628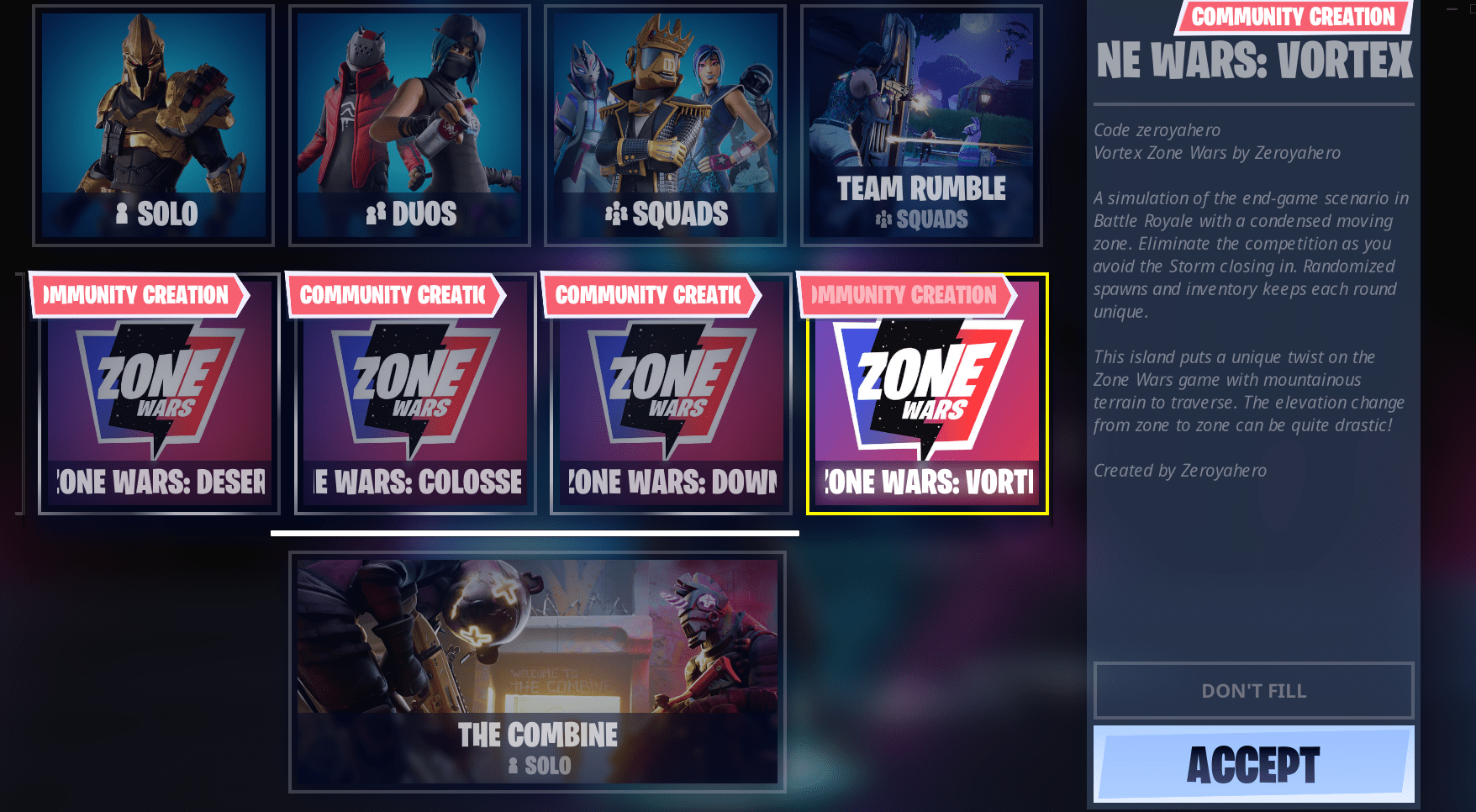 Zone Wars Challenges
As stated previously, there's no information if the challenges for Zone Wars will return with the rerelease of these maps. However, we've listed the challenges below in case Epic do decide them to add them back.
Play Zone Wars matches (5)
Get eliminations in Zone Wars matches (10)
Deal damage to opponents with Assault Rifles in Zone Wars (1,000)
Deal damage to opponents with Shotguns in Zone Wars (1,000)
Gain Health or Apply Shields in Zone Wars (500)
Build structures in Zone Wars (250)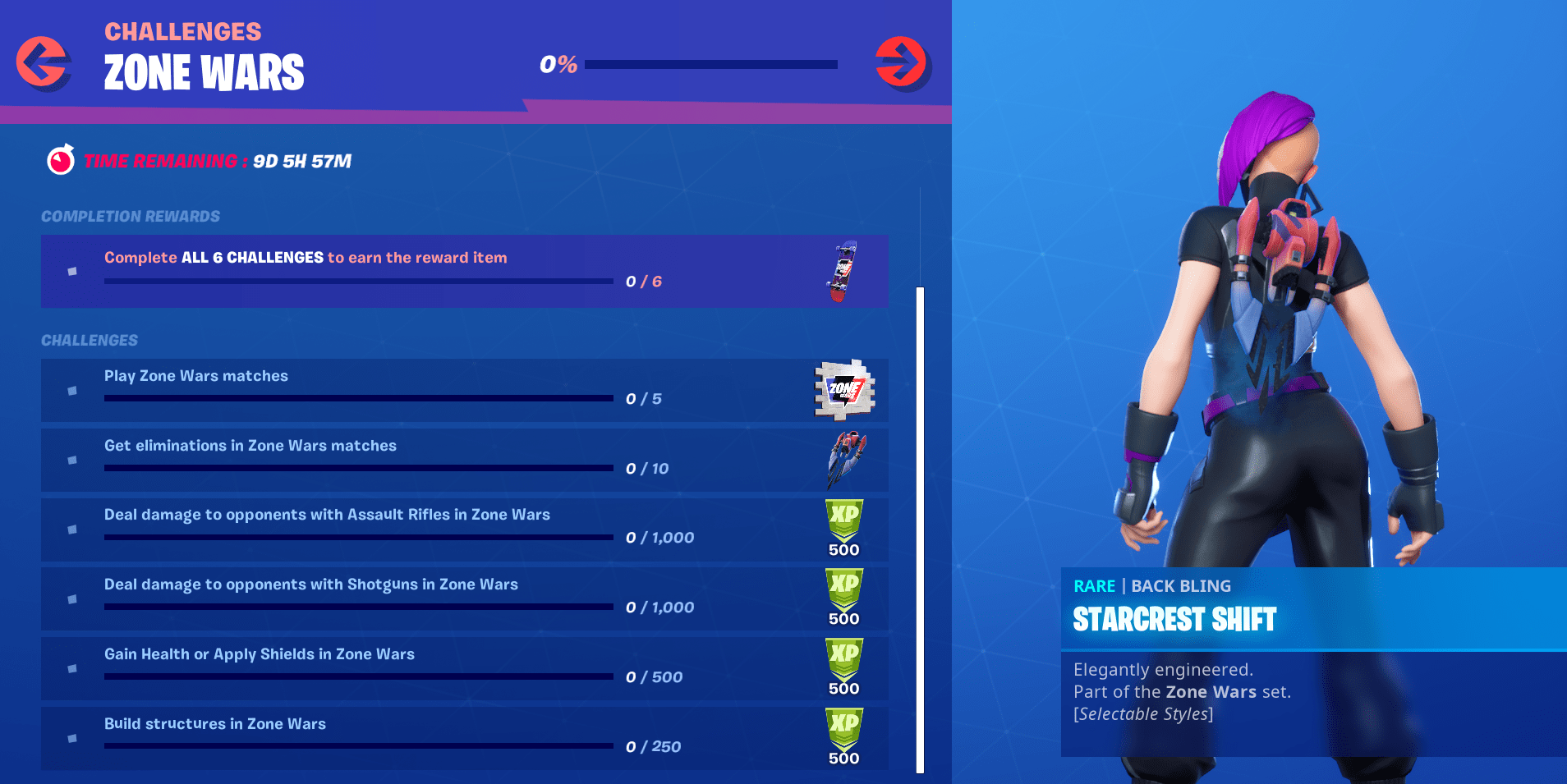 Zone Wars Rewards
If the challenges do return, the rewards will return too. Players will be able to unlock the Zone Wars spray, the Starcrest Shift Back Bling, and the Zone Wars Back Bling Skateboard.
The other challenges include Season XP. If these challenges do return, Epic will have likely increased the amount of XP earned from the challenges as 500 XP per challenge in this season's XP system is next to nothing.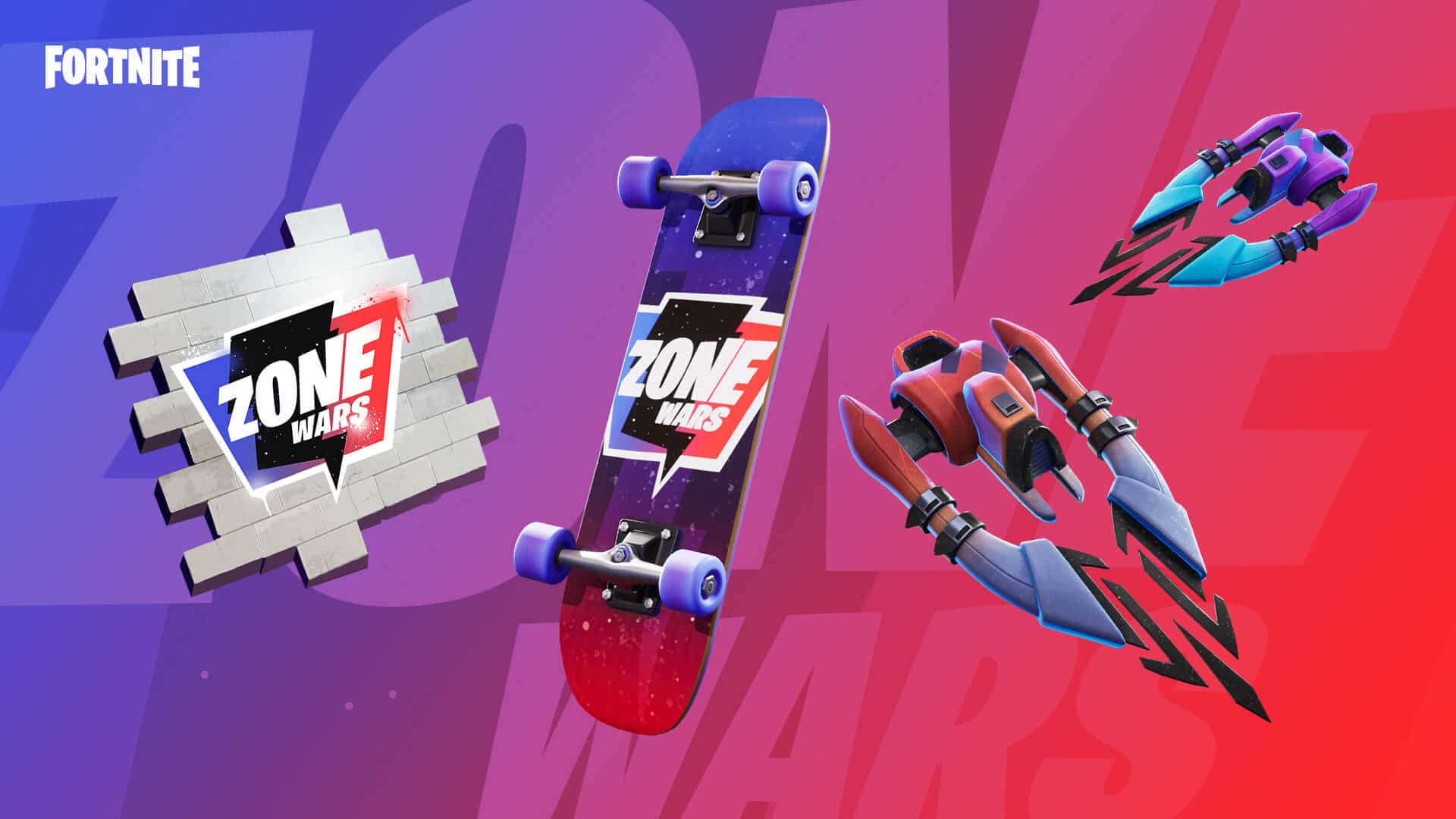 We'll keep you updated with the latest regarding Zone Wars returning to Fortnite. We'll let you know as soon as it goes live if the new information from the API is to be believed. We'll also let you know if the challenges and rewards make a return with the LTM's.