Epic Games have made it official, Fortnitemares 2020: Midas' Revenge will go live today once the servers are up from maintenance.
Epic accidentally leaked the name of this years Halloween-themed Fortnite event. The Fortnite in-game news feed in Russia said that Fortnitemares: Midas' Revenge would be coming to the game soon and once Epic announced the new v14.40 update, it was obvious we would be getting Fortnitemares 2020 this week.
Epic have released a blog post outlining the Halloween event along with a video to promote the event. Here's everything Epic Games covered in the official blog post.
Fortnitemares Start time and End Date
Fortnitemares begins much earlier than we've seen in previous seasons. The Halloween-themed event begins today, October 21st and will run until November 3rd.
Shadow Midas Returns
Midas hasn't been seen since the last Fortnite event more than a season ago. He has returned along with his reawakened henchmen to reclaim the agency. During Fortnitemares, you'll follow in their phantom footsteps.
When you're eliminated in solos, duos, or squads, players will be able to return to the battle as a shadow for a shot at a Nitemare Royale. You'll get abilities including being able to possess the body of vehicles. Sounds freaky.
Witch Broom, Fient Hunter Crossbow and more
Epic are changing up the loot pool in season 4 for this event. They have vaulted the charged shotgun and they've added in the Pumpkin Rocket Launcher, the Fiend Hunter Crossbow, and a brand new item, a Witch boom.
There's also a bunch of different candy that's been added which we leaked a couple days ago over here.
Challenges & Free Rewards
It wouldn't be a Fortnitemares event without challenges and free rewards. Players can complete new challenges to unlock free Fortnite rewards including Midas' Shadow Wrap, the Smash O'-Lantern Pickaxe, the Bobo Back Bling and much more. Here's a look at the rewards: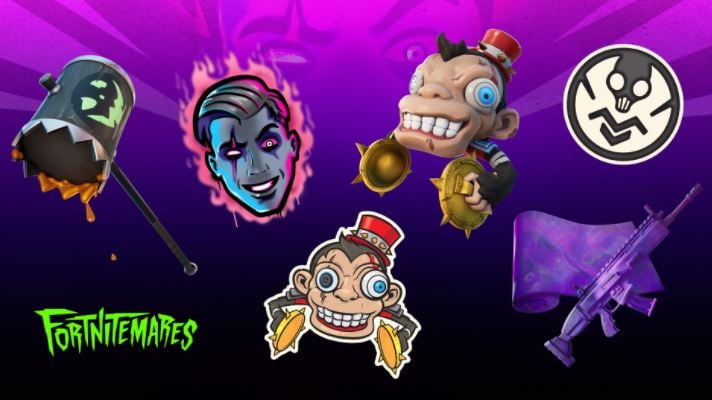 We'll be leaking the Fortnitemares 2020 challenges if data-miners post them before the servers are back online. We'll also be covering guides on the challenges and be covering all leaks that emerge from this update. Be sure to turn on website notifications or check back to view all our Fortnitemares coverage!