There is a Fortnite Mega Drop available now and players can claim the Shooting Starstaff Fortnite Pickaxe for free.
In Fortnite, there are many different ways in which you can get cosmetics, either through the Battle Pass, purchasing through the Item Shop or Store, through the Battle Pass and some are even gifted to players for free.
There is a new Pickaxe you can claim for free and Epic are also holding a Mega Drop in Fortnite as well, where you can purchase V-Bucks for a cheaper price. Here is how you can claim the Pickaxe and what it looks like.
Fortnite Shooting Starstaff Pickaxe
The Shooting Starstaff Pickaxe is of Rare rarity and has the description, "May the stars guide you home." This Pickaxe is part of the Ancient Voyager set and can be seen below.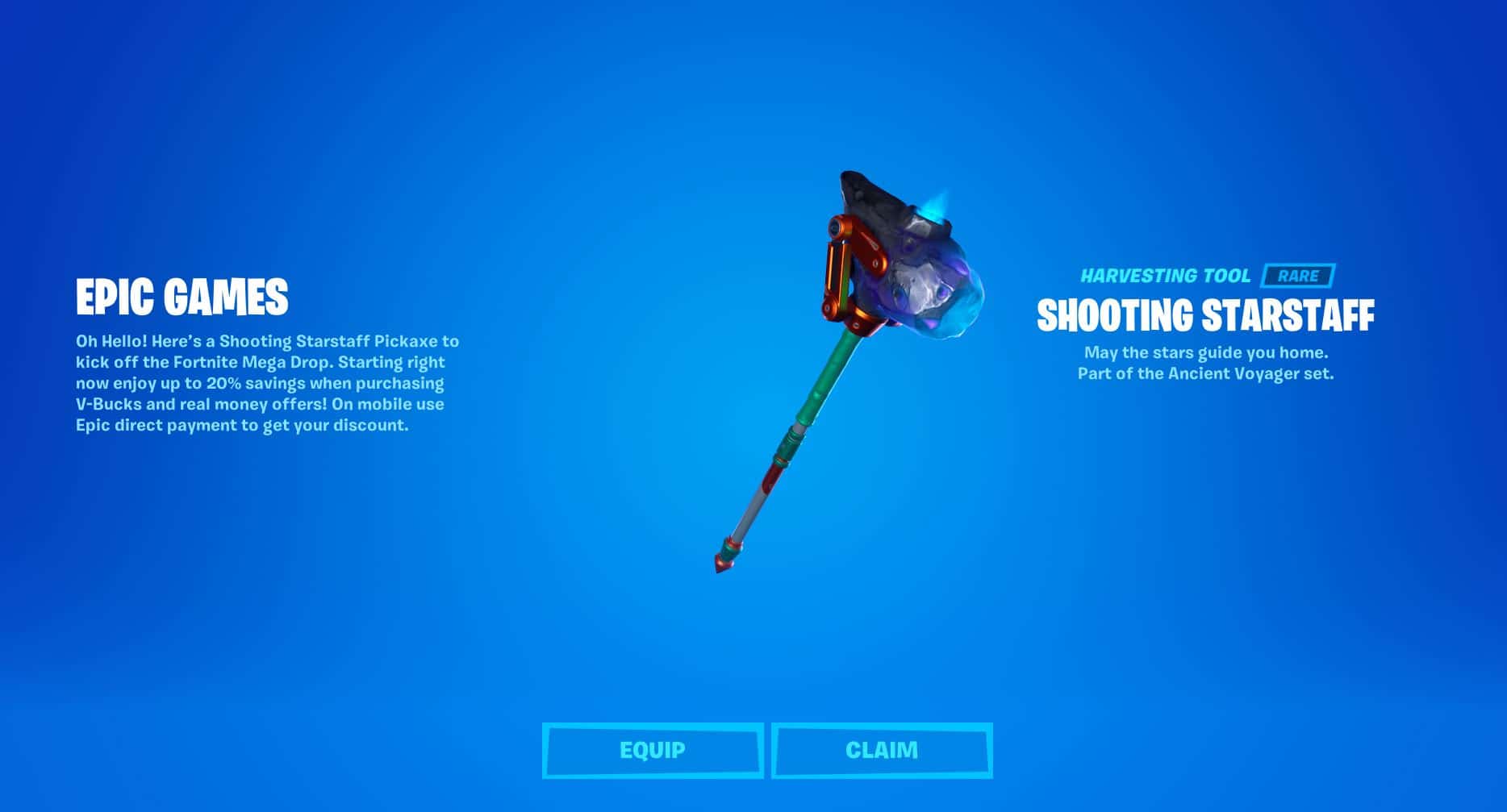 How to get the free Fortnite Pickaxe
This Pickaxe is awarded to all players for free and all you will need to do to claim this cosmetic is to simply log in. Upon logging in, you will see that you have been awarded the Pickaxe and the following message can also be seen:
"Oh Hello! Here's a Shooting Starstaff Pickaxe to kick off the Fortnite Mega Drop. Starting right now enjoy up to 20% savings when purchasing V-Bucks and real money offers! On mobile use Epic direct payment to get your discount."
For all players that have purchased any 'real-money' cosmetics, like the Summer Legends Bundle, or purchased any V-Bucks in the last 30 days, they will also be granted bonus V-Bucks by the 17th August!
What do you think of the Shooting Starstaff Pickaxe? Let us know in the comments section below.