Here's how to get the Street Shadows Fortnite challenge pack for free which includes the Shadow Ruby skin.
Since the mid seasons of Fortnite chapter 1, Epic have pushed out a large number of different packs and bundles that are either available to purchase with V-Bucks or real money.
With every new major Fortnite update, data-miners leak the new files including upcoming cosmetics including skins, along with challenges, upcoming weapons and items, and more. We also see different packs and bundles leaked in also every update.
One of the packs that was leaked in the last major update was the Snakes & Stones Challenge pack. It's available in the item shop for $15 and includes the Lyra skin with a skin style, the Agent Stones back bling, the Slitherous Staff pickaxe, and challenges that'll provide you with 1,500 V-Bucks once completed.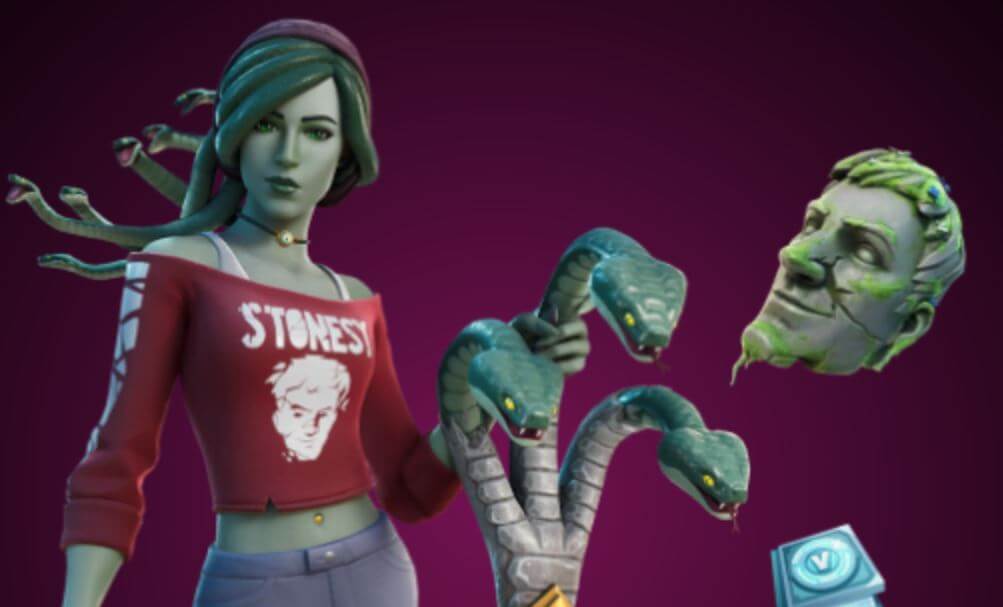 Another pack that was leaked is the Street Shadows challenge pack. Data-miners leaked this and stated it would be free. It's now available in the item shop for free, and here's everything you need to know about how to get the Fortnite Street Shadows challenge pack.
Shadow Ruby Fortnite Pack
Epic Games announced the Epic MEGA sale for 2021. Epic users have the chance to get $10 Epic coupons, large discounts on major titles, free games, and much more. For PC Fortnite players, this means they can get the Street Shadows Fortnite challenge pack for free.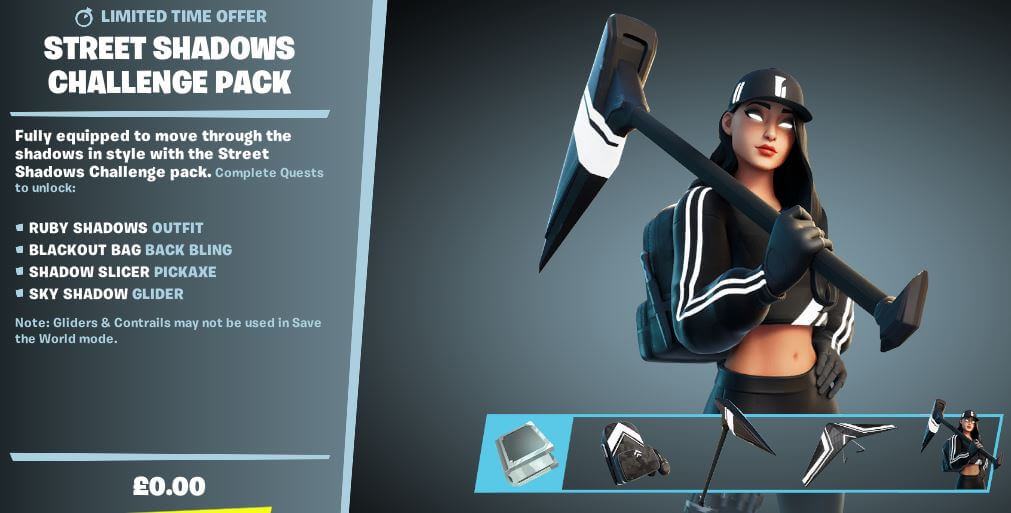 The Street Shadows challenge pack includes the following:
Ruby Shadow Fortnite skin
Blackout Bag Back Bling
Shadow Slicer Pickaxe
Sky Shadow Glider
In order to unlock the above cosmetics, you'll need to complete the following Street Shadows Fortnite challenges / quests:
Play with friends (5) – back bling
Outlast opponents (500) – glider
Deal damage to opponents (1,000) – pickaxe
Complete Ruby Shadow Quests (3) – skin
These challenges aren't difficult to complete, but they'll likely take you a couple of hours to complete them all. Obviously, the rewards are worth investing the time into especially considering the fact that PC players don't usually get too many Fortnite freebies.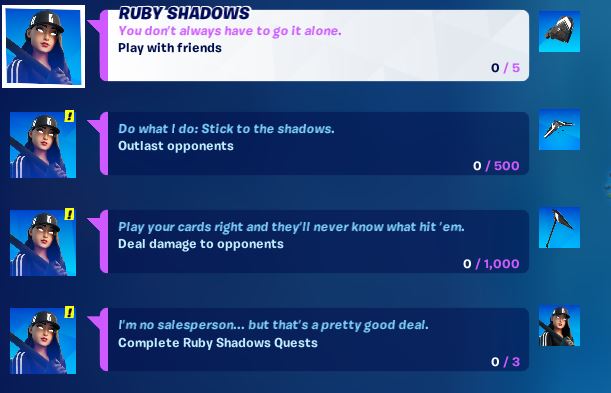 Players only have until June 17th in order to claim the pack, but once you do, you have an unlimited amount of time to complete the challenges and unlock the cosmetics.
If you're wondering how to get the Street Shadows Fortnite challenge pack for free, simply open Fortnite on your PC and find the pack in the limited-time offers section. It'll have the price at $0.00 and you simply need to "purchase" it for free in order to get the pack.