A number of issues are occurring in Call of Duty: Warzone and one of them is the Warzone dev error 6039 (common_mp.fc). Here's the ways in which you can fix this error on PS4, PS5, Xbox consoles and PC.
Call of Duty: Warzone players are currently frustrated with the state of the game. The new pacific map was supposed to bring old players back to the game. However, players are experiencing issue after issue whether you're playing on the Caldera map or Rebirth Island.
One of the errors players are coming across is the content not available error, something which we've already covered over here. PS5 players have been experiencing constant crashes and the only way that seems to fix the issue is turning off 4k support on the console.
Rebirth Island players will notice that their game temporarily freezes when trying to purchasing something from a buy station. I've been downed from this bug several times and based on previous bugs, it'll probably take a while for Raven Software to implement a fix for this.
Other players have been dealing with the Warzone dev error 6039 (common_mp.fc). Here's some steps on how you can fix the dev error 6039 in Warzone.
How to Fix Dev Error 6039 Warzone PS4
There a couple of ways you can fix the dev error 6039 Warzone error on PS4. You can try to check for game updates, turn off your console and unplug everything and re-plug everything back in after two minutes, or creating more hard-drive space by deleting unwanted files or games.
If none of those work, you'll need to get a step further which will be time consuming. Follow the steps below:
Go to your PS4 library.
Find Modern Warfare 2019 and delete it from your console.
Re-install Modern Warefare 2019 from the PlayStation Store or by finding it in your library.
Wait for the game to download and retry.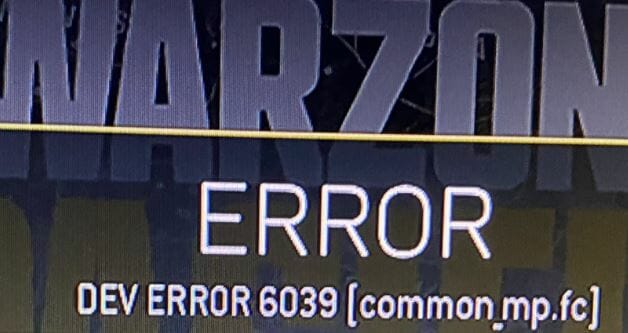 The reason why players get the 6039 dev error is because one of the files have been corrupted on your system. If the file remains corrupted, you won't be able to play Warzone unless you delete and re-install the game.
Fix Warzone 6039 error on Xbox, PC, and PS5
From what we've seen and tried so far, it appears as though the only way you can resolve this error is by deleting the install game and then re-installing it onto your system again. It's obviously not ideal because of how large the file is that you'll have to download.
However, it's the only fix that players have found so far and is therefore necessary if you want to play Warzone. Here's to hoping Raven Software fix all the issues with the game as soon as possible.