Here's how players can get their hands on the exclusive Merlin's Cloak Twitch Drop.
Hogwarts Legacy is almost here for those of you that purchased the deluxe edition of the game with the February 7th release date within touching distance.
The game will release at midnight in your timezone, which has led to players trying to "New Zealand" method whereby players change their location in order to unlock the game earlier.
The reviews are already in and with all the controversy surrounding the game, the reviews are surprisingly better than expected.
IGN has given Hogwarts Legacy a 9/10 whilst Metacritic lists an aggregate score of 85%. Here's the breakdown of the reviews:
With the hype building for the game, players might miss the information regarding the exclusive free Twitch Drop items that are available during launch week.
Here's a look at all of the items that'll be available this week along with how to obtain them.
Free Twitch Drop Merlin's Cloak Hogwarts Legacy Item
The official Hogwarts Legacy tweeted recently that players can get their hands on Merlin's Cloak in Hogwarts Legacy. Here's what the Cloak looks like: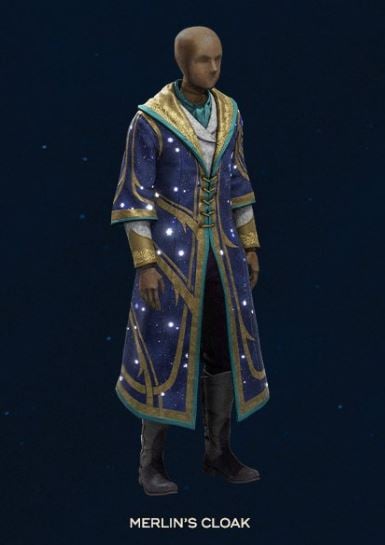 How to Get Merlin's Cloak in Hogwarts Legacy Reward
In order to get your hands on the cloak, players will need to attend either the Early Access stream on 7th February at 8 AM PT or the launch stream on February 10th at 8 AM PT on the official Avalanche Software Twitch channel.
You'll need to watch the stream for 20 minutes in order to get Merlin's Cloak. In order to redeem the item, you'll need to install the game and log in to the game.
Other Hogwarts Legacy Free Twitch Drops Rewards
There are further free items available from February 7th to February 24th.
Here's the list of rewards:
Silver Dragon-Eyed Spectacles
Urchin Hat
Carmine Lightning Bolt Scarf
Lilac Ensemble
Here's what the Twitch Drops Rewards looks like:
In order to obtain, players must do the following steps:
Watch a streamer playing Hogwarts Legacy with Twitch Drops enabled for at least 30 minutes. A new reward is given for every 30 minutes of a stream watched.
Claim the rewards from your Twitch Inventory.
Go to the connection page for the WB games account site and connect your Twitch account to your WB games profile
Once connected, follow the steps to claim the free Twitch Drops Hogwarts Legacy rewards.