The Volcanic Assassin Fortnite skin pack is available for free through the Epic Games launcher. Here's how to get the pack.
If there's one thing Epic Games are good at, it's providing their players with free cosmetics. Every year during Christmas, Epic provides players with a chance to get their hands on free cosmetics.
The cosmetics are obtained by completing challenges or by opening presents in a cabin. There are other events throughout the year including a summer event that provides more opportunities for free cosmetics.
There are also cups and other tournaments alongside free PlayStation cosmetics from the PS Store that offer more opportunities to get cosmetics for free.
PC players also get an occasional skin or two for free. Most recently, PC players were able to get their hands on the Blizzabelle outfit from the item shop in December.
With the release of the final major patch update of the season, data miners leaked that there would be a skin pack that would be available for free for all PC players, the Volcanic Assassin pack. It's now available for players using the Epic Games Launcher, and here's how to get it.
Free Tectonic Komplex Fortnite Skin
The Volcanic Assassin Quest Pack includes the following cosmetics for free:
Tectonic Komplex Outfit
Fiery Jam Back Bling
Sulfuric Street Shine Pickaxe
Fiery Flow Wrap
Here's a better look at each cosmetics: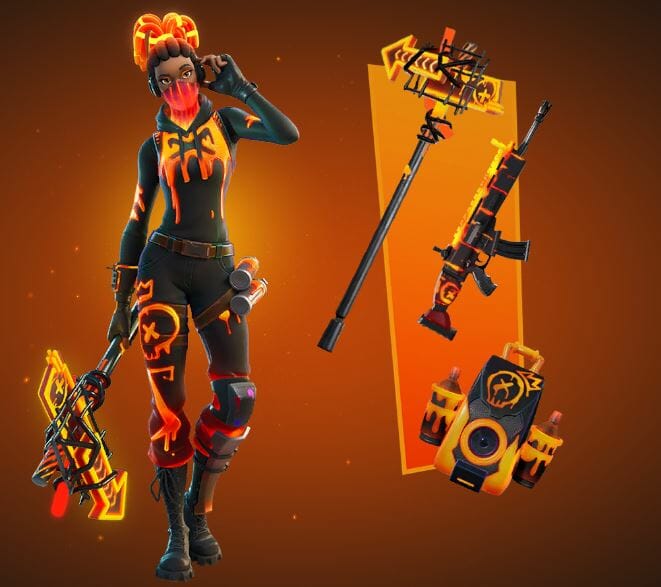 Head to the Fortnite Item Shop and scroll all the way to the bottom. Scroll up twice and you'll find the pack available. Click the quest pack and click "purchase".
Once, you've done this, it'll take you through the normal Epic Games order process, but you won't have to pay anything for it. You'll unlock a set of quests that can be found by heading to the quests tab.
Volcanic Assassin Pack Quests
To unlock the skin, you'll need to complete all three fairly simple challenges that can be found below:
Ignite Structures (100) – unlocks back bling
Survive Storm Phases (50) – unlocks wrap
Deal damage to opponents (2,100) – unlocks pickaxe