Here's what you need to do in order to get the Mace of Hearts Fortnite Creative Mayhem pickaxe for free.
Epic Games announced the Fortnite Creative Mayhem Valentine's day event yesterday following on from last years Team Battles event, which provided players with a chance to win several cosmetics for free.
As expected given the name of the event, Fortnite Creative Mayhem is based on the creative game mode. Players need to sign up to the official website and submit a video of them going through the creative mayhem map for a chance to play with their favourite creator.
There a total of two cosmetics players can easily obtain, a emoticon and the Mace of Hearts pickaxe. By signing up to the site, players will automatically receive the Love Reigns Emoticon when they log in. Here's how to get the pickaxe for free.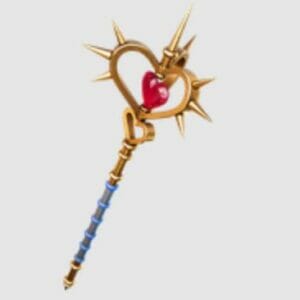 How to get Fortnite Creative Pickaxe for Free
In order to get the Mace of Hearts Fortnite pickaxe for free, players will need to play on the mayhem map for a total of thirty minutes or more. You can access the map by heading over to the creative playlist and entering in the code below:
7266-3680-0768
Once you've done this, you should get a notification that you've received the Fortnite Creative pickaxe and you simply need to claim it. Here's what it'll look like when you get the cosmetic:
Other than that, there isn't anything more to the Valentine's day event. Last year, some of the weekly challenges were Valentine's day-themed and players unlocked cosmetics by completing them. This time around, there's only the creative event.