The Prowler Fortnite chapter 3 season 2 Battle Pass skin is now available to unlock. Here's how to get the skin along with all the challenges and cosmetics.
In chapter one, the eighth Fortnite Battle Pass skin would be a secret, and would only be revealed a week or two prior to its unlocking. At first, data miners would leak the secret skin from the files, but Epic then started to release information on each secret skin ahead of its release.
Since chapter 2, the eighth Battle Pass skin is no longer a secret and is revealed at the start of each season, but players still need to wait a few weeks before they can unlock it.
This season's final Battle Pass skin is no different. The Prowler skin was featured in the trailer for season two, and the skin can be seen in the Battle Pass tab.
The Prowler skin is now available to unlock and here's how to unlock it along with a list of all the challenges.
How to Unlock/Get Prowler in Fortnite
In order to unlock Prowler in Fortnite, players will need to complete any of the three quests found below.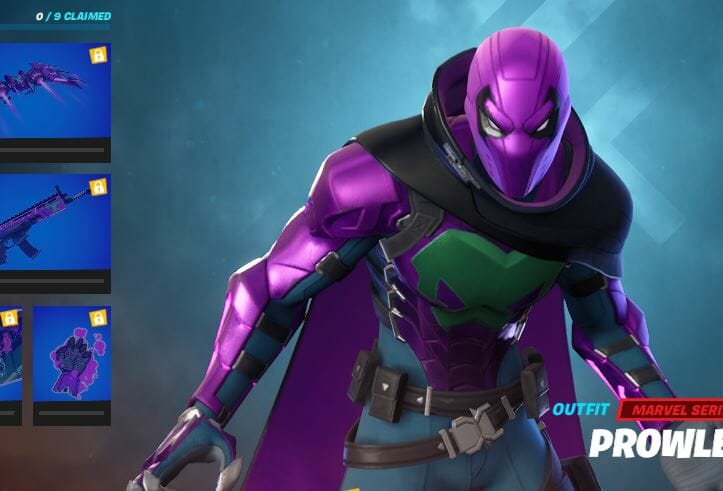 Fortnite Prowler Quests & Rewards
DO 500 DAMAGE TO OPPONENTS WHILE CROUCHED OR SLIDING
SEARCH 7 CHESTS BEFORE TAKING ANY DAMAGE IN A MATCH
GET 3 HEADSHOTS ON OPPONENTS WITH A THERMAL WEAPON
MOD A VEHICLE, THEN DRIVE IT 500 METERS IN A SINGLE MATCH
USE A SPRAY AT THE DAILY BUGLE
COLLECT 3 DIFFERENT WEAPON TYPES OF EPIC RARITY OR HIGHER IN A SINGLE MATCH
COLLECT 300 BARS
Here's a list of each cosmetics available to unlock:
Prowler Outfit
Slash and Smash Emote
Energy Claw Pickaxe
Sky Prowler Glider
Mark of the Prowler Wrap
Prowler's Grasp Emoticon
Prowler Tag Spray
Prowler Banner
On The Prowl Loading Screen