Players are reporting that the Fortnite servers are down right now (May 10, 2022). Here's everything you need to know including information on the Fortnite error esp-buimet-003.
Since the launch of Chapter 3, there has been more Fortnite server downtime than the whole of chapter two. When the new chapter launch, the servers were down for hours due to the sheer number of players looking to log in to experience the new chapter at the same time.
To fix the issue, Epic Games needed to deploy a queue to get everyone their Fortnite fix. However, more problems followed during the Winterfest event when everyone would log in at the same time each day to open a new present.
There were then more issues where the Fortnite servers were down for more than six hours, and to compensate players for lost time, Epic Games provided a free cosmetic for every player that tried logging in during that downtime period.
It looks like there are more issues with the Fortnite servers today (May 10th, 2022). Reports of not being able to log in were flooding Twitter a few hours ago, and Epic Games have released a statement on the Fortnite Status Twitter account.
Are the Fortnite Servers Down Right Now? May 10, 2022
More than two hours ago, Epic Games stated that they were investigating issues where some players are unable to log in on Xbox and PlayStation consoles. Here's the tweet below:
Fortnite esp-buimet-003 error fix
When trying to log in on PS4, PS5, Xbox One X|S, players are greeted with a red error box with the following text, "an error occurred while connecting to Epic servers. Please try again later".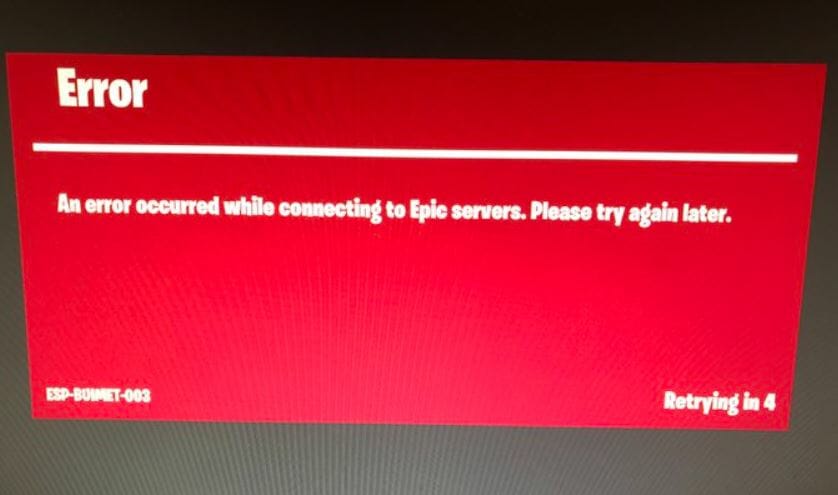 There's an error message on the bottom right of the screen, esp-buimet-003. This is a new Fortnite error code we've not seen before, but it appears as though it's a network error code, and there's nothing you can to do fix this issue.
Players will need to wait until Epic has fixed the issue, and we'll provide updates below when the servers are back up. In the meantime, why not try our Fortnite take on Wordle over HERE.
Fortnite Server Status – When Will the Servers Be Back Up?
As this isn't scheduled maintenance, we're not sure when the servers will be back up on May 10th, 2022. However, we'll update the server status below whenever they're available.
Current server status: DOWN for console.