There's a new Fortnite update today which means the servers are down for scheduled maintenance. Here's when they should come back online on May 17, 2022.
There are two weeks to go until the end of Fortnite chapter 3 season 2. For me personally, it's been one of the best seasons in a long time thanks to the Zero Build being introduced into the game.
However, when it comes to new content being added to the game during the season, it's been fairly dry. Since the launch of chapter 2, Epic Games haven't updated the game with more exciting features or items, but they have spent time pumping out collaborations.
The last major update was released two weeks ago, and now Epic Games have confirmed that the final patch update of the season, v20.40, will be going live later today along with the Fortnite Status Twitter account announcing when the servers will go offline for maintenance.
Is Fortnite Down Today? May 17th, 2022
Every time a new patch is announced for Fortnite, it's tweeted on the official Fortnite status Twitter account. The announcement will always include the time the servers will go offline for scheduled maintenance, and there's no expectation with the announcement of the May 17th, 2022 patch.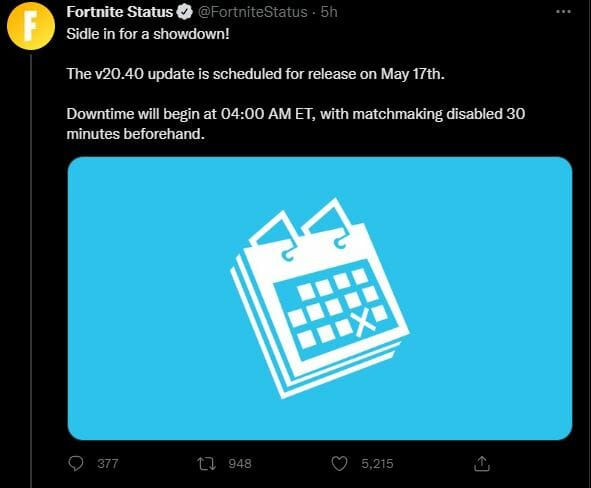 The Fortnite servers are currently down and will remain down for at least two hours, which we've based on the downtime duration from previous updates over the past few months. The current Fortnite server status today May 17th, 2022) can be seen below.
Fortnite Server Status 17th May 2022
The Fortnite servers ARE DOWN on May 19th, 2022. We'll update this as soon as they're back online. In the meantime, why not try our Fortnite edition of Wordle over HERE.
When Will The Servers Be Back Up?
Epic Games will never announce a time the servers will be back online. The servers were down for just over three hours for the last update. Based on that, we're guessing the servers will be back up at approximately 7 AM ET / 12 PM GMT.
We'll update you under the server status section above when the servers are back online.