With the success of Wordle, players are wondering if there's a Fortnite Wordle game edition.
Wordle took the world by storm when it was released with millions of players visiting the site to guess the daily five-letter word. Since its release, there have been a large number of games that have been released in the last few months.
Quordle and Heardle are the two most popular Wordle-inspired games right now, but that could change fairly quickly. We've seen players look for a Wordle Fortnite edition, and we haven't found one until today.
We've gone ahead and created our own Fortnite Wordle called Fortle. It's available on our sister site, Fortnite Skin, and here's everything you need to know about the game.
Fortnite Wordle Game
Our Fortnite Wordle game works the same as the majority of other daily word games. Players need to guess the daily Fortle within six guesses.
Each guess must be a valid five-letter word. After each guess, the colour of the tiles changes to show you how close your guess is to the selected Fortle word of the day.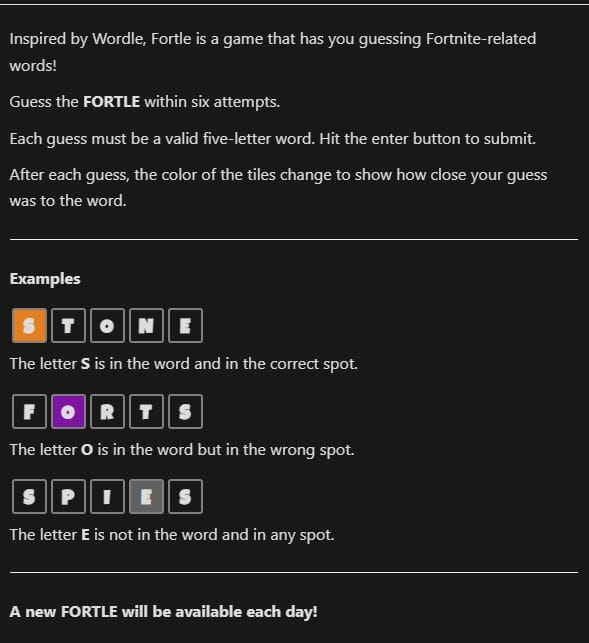 The legendary orange colour means you have the correct letter in the right place, the epic purple colours means a letter is in the word, but in the wrong place. And finally, the grey colour represents letters that aren't in the daily Fortle word.
There's a new Fortle available each day at midnight local time. If you want to play, you can head over to the Fortle site HERE. As we've only just released it, there will be a few bugs that players will likely come across. We'd appreciate if you can report them by messaging our Twitter account, FortleGame.