Players are wondering where the last present is in the Fortnite Winterfest lodge after 1 extra present was added.
Although we still have a week of the Fortnite Christmas Winterfest event, players have been able to open all of the presents from the Winterfest lodge. The free cosmetics from the presents include Polar Peely and the Krisabelle skin.
There's also two other cosmetics players can get for free, a glider and a back bling. The Glider is obtained once players complete seven of the Winterfest challenges, and the back bling once ten challenges have been completed.
There's only one challenge left to complete which will unlock at 2 PM GMT today. There were no more Fortnite presents to open in the 2021 cabin until there were issues with the servers yesterday.
The servers were down for more than three hours yesterday and we'll likely get a breakdown from Epic Games next week detailing the issues the servers were having. When the servers were back up, players noticed a last Fortnite present that was "unlocked". Here's what we know about the last Fortnite Winterfest Present.
Where is the Last Present in Fortnite?
When Epic Games announced the Winterfest event, they stated what all the cosmetics were in the presents. Two outfits, two Pickaxes, two Wraps, a Glider, Contrail, Emote, Lobby Track, Loading Screen, Emoticon, Spray, and Banner.
That totals fourteen Fortnite presents in 2021 from the lodge. However, as mentioned previously, when the servers were back online yesterday after the unexpected downtime, players noticed that they had one extra last present to open.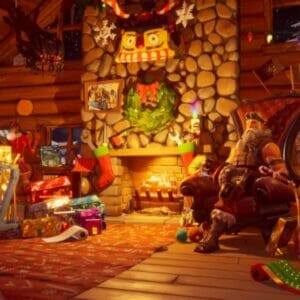 If you're wondering where the one extra last present is in Fortnite and what's in it, unfortunately, there is no last present to open. This is a glitch that somehow occurred during downtime. There's official confirmation that there's no last present.
[wp_quiz_pro id="87009″]
Epic tweeted on the Fortnite Status Twitter account, "Already opened all your presents but still see one extra present left to open? Sit tight, we're working on that".
However, there is good news. There's a chance players could receive some sort of compensation in the way of XP or even a cosmetic. Epic said the following on Twitter, "We appreciate everyone's understanding as we worked to resolve these issues and we'll have more details next week on what we're doing to help you make up for lost time".
Next week will likely be the first major Fortnite update in three weeks. If players are to receive some sort of compensation, it'll likely be added in the upcoming update.