Epic games introduced a brand new skin and pickaxe that weren't leaked by dataminers. A new animated wrap has now been discovered.
Epic Games release a major patch update every two weeks. These patch updates have a handful of new files, and when the new files are available to download, dataminers check what the new files are, and leak anything that would be of interest to Fortnite players.
The most popular Fortnite leaks are the Fortnite skins and other cosmetics that get leaked. However, Epic also add encrypted skins that dataminers can't leaked, and today's Item Shop saw a brand new skin, Malice, that wasn't leaked beforehand aswell as the accompanying Burning Axe pickaxe.
When these cosmetics were rotated into the item shop, a new wrap that hasn't been released was leaked named "Heat". This skin is most definitely part of the set that Malice belongs to, however, Epic haven't made it available to purchase in the shop…yet. New skins are available for two days on intital release, so the new Heat wrap will likely be available in tomorrow's item shop.
You can see the new leaked wrap below:
According to leaker s110x, the wrap is animated and the string of code says "Cosmetics.Set.DevilRock", confirming it's part of the Malice set.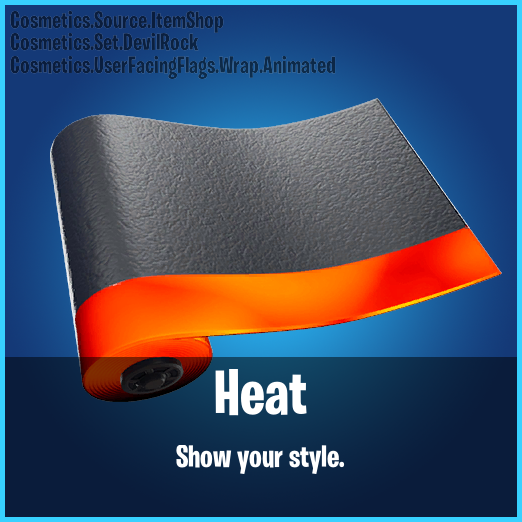 This is the second animate wrap found in the files after the Magma Wrap. The Magma wrap that was leaked in the v8.10 files could also be making it's way into the shop tomorrow along with the Heat Wrap.