The Black Manta Fortnite skin and the Black Manta Blades pickaxe will be in the Fortnite Item Shop when it resets.
There's been a number of Fortnite leaks that we usually don't get. In fact, much of season 3 was leaked a month before it released. An insider leaked that the map would be flooded, and that there'll be sharks in the game.
The same insider has also been leaking what will be in the Fortnite Item Shop, and so far, they've all been correct. A couple of weeks ago, data-miners mentioned that there'll be a new Fortnite skin in the item shop along with a pickaxe in the set that'll be coming to the item shop today, July 16.
The Fortnite skin that'll be available in the Black Manta and the Black Manta pickaxes. Both the skin and the pickaxe are encrypted, but here's what we know.
Black Manta Fortnite Skin
Black Manta is a supervillain in the DC comics and is the archenemy of the superhero Aquaman, which makes it the perfect skin to add to the Fortnite Item Shop. Here's what Black Manta looks like for those that don't know:
UPDATE: The black manta skin is in the shop: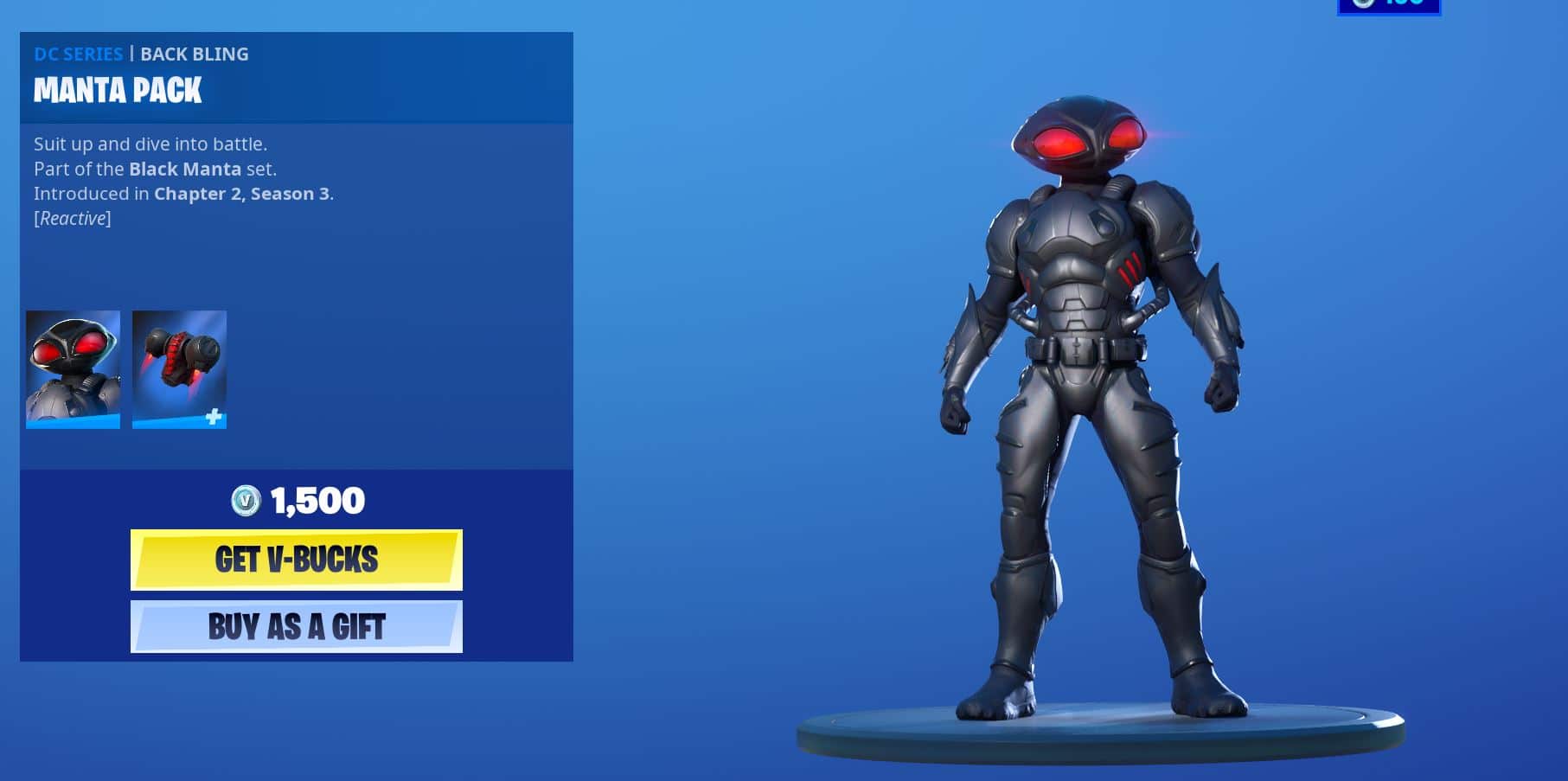 Aquaman's week 5 challenges release today and players will be able to unlock both the Aquaman skin, the Arthur Curry skin style, and the Trident Pickaxe with the shell back bling being made available to unlock last week.
As of writing, the Aquaman week 5 challenges haven't been released yet. What's interesting is the featured section of the Fortnite Item Shop resets at the exact same time the Aquaman Week 5 challenges are released. Coincidence? I think not.
It's more than likely the Black Manta Fortnite skin and the Black Manta Blades will be available to purchase when the Aquaman week 5 challenge unlocks. We'll be sure to update this article with images and a video of the Black Manta skin and the blades pickaxe as soon as they're available.
We'll also be posting guides on how to complete the normal week 5 challenges along with how and where to get Aquaman's Trident Pickaxe.
As always, be sure to turn on website notifications so you don't miss any of the latest Fortnite news, leaks, guides, and more!