A new set of challenges has been added in the v9.30 Fortnite update called the 14 Days of Summer Challenges. Here are all the challenges and rewards.
Epic Games are always adding new things to Fortnite to keep it fresh and entertaining. In every update that requires downtime, there are new files that are added and data-miners are able to leak these new files as long as they have not been encrypted.
Data-miners have been looking through all the files that have been added in today's v9.30 update and have noticed that new challenges have been added called 14 Days of Summer. The challenges and rewards for completing these challenges have been leaked by @Lucas7yoshi and can be seen below.
14 Days of Summer Fortnite Challenges and Rewards
Dance at different beach parties (6)
Bounce a giant beach ball in different matches (5)
Eliminations with the daily unvaulted weapon or a drumgun (5)
Thank the Bus Driver and finish top 20 in different matches (5)
Pop party balloon decorations (5)
Search unicorn floaties at swimming holes (3)
Hit a player with a water balloon in different matches (3)
Bounce off a giant beach umbrella in different matches (3)
Score trick points with a Driftboard with Neon Tropics applied to it (250,000)
Launch fireworks found along the river bank (3)
Get a score of 10 or more on a Carnival Clown Board (1)
Visit a giant beach umbrella and a huge rubber ducky in a single match (1)
Search the hidden sea shell in the beach themed loading screen (1)
Destroy grills with the Low n' Slow Harvesting Tool (7)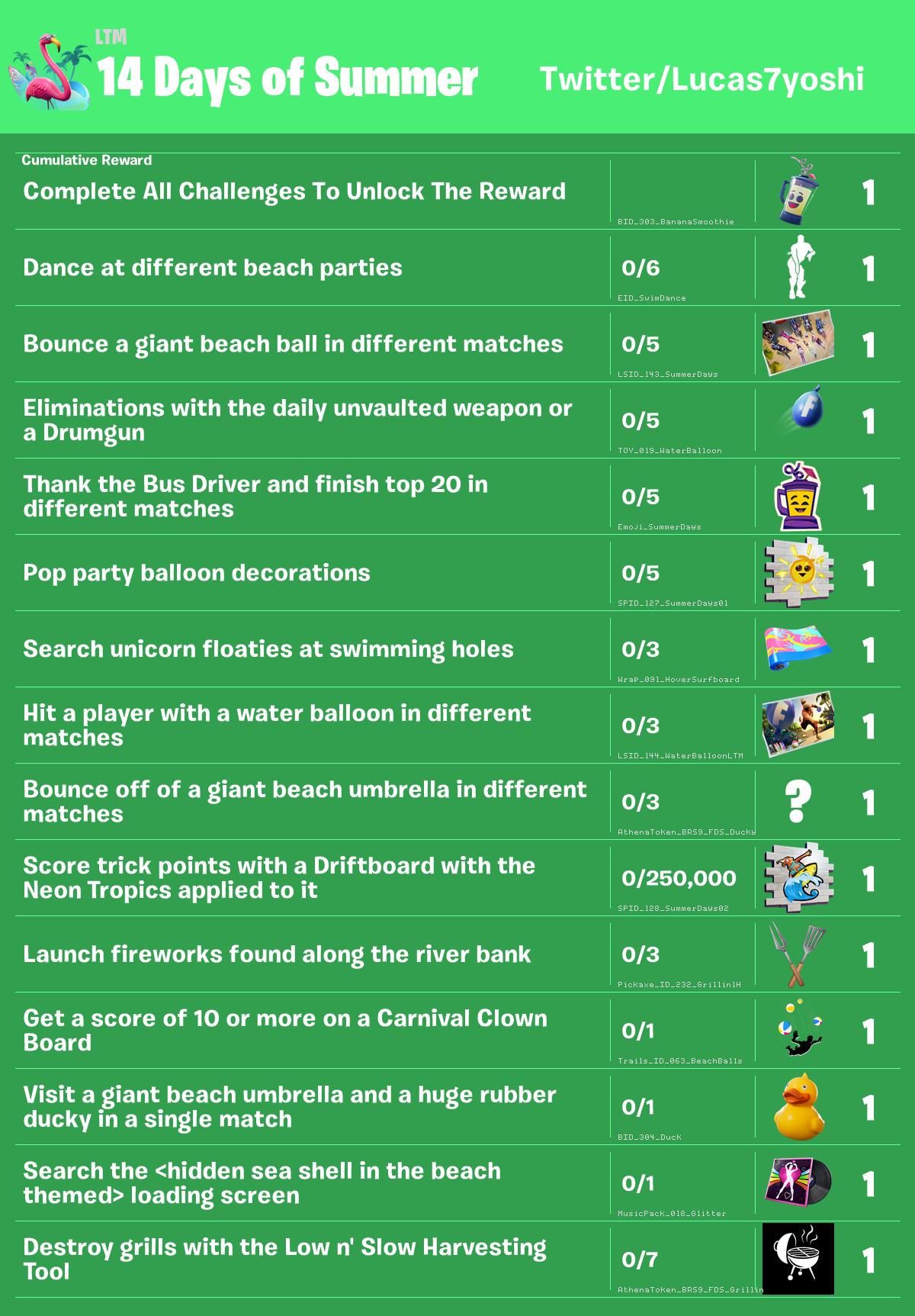 The challenges will likely be released one every day, the same as the 14 Days of Fortnite Challenges that have been released in the past. We will be helping you to complete these challenges as soon as they have been released in-game.