The Fortnite Loki skin has been revealed in the trailer for the July Crew Pack 2021.
The Loki Fortnite skin was rumored to come this season based on a hint providing in one of the season 7 loading screens. A number of Twitter users guessed Loki would be the July Fortnite crew pack skin and they were correct.
On Friday, June 25th Epic put out a tweet teasing the July Fortnite Crew Pack 2021 skin. They tweeted an image of Loki's helmet horns along with the follow caption "It seems Mecha Cuddle Master wasn't the only one who found their way to the Island. Looks like a trickster snuck his way through the portal and into the Fortnite Crew this July".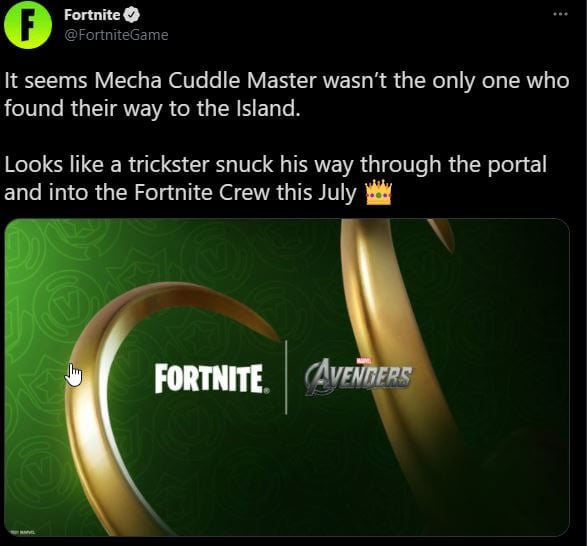 This all but confirmed Loki would be coming to Fortnite, but we still hadn't seen what the skin would actually look like. It was added in the last major update, v17.10, but it was encrypted so data-miners weren't able to leak it ahead of the announcement.
Epic have just posted the official trailer revealing the Loki Fortnite skin along with the other cosmetics that will be in the Fortnite July 2021 Crew Pack.
Loki Fortnite Skin and other cosmetics
The Loki Fortnite cosmetic set for the July Fortnite crew pack includes Loki's Cape Back Bling, Loki's Scepter Pickaxe, and the Chitauri Chariot Glider along with the Loki's Welcoming Loading Screen. Here's a look at all of the cosmetics: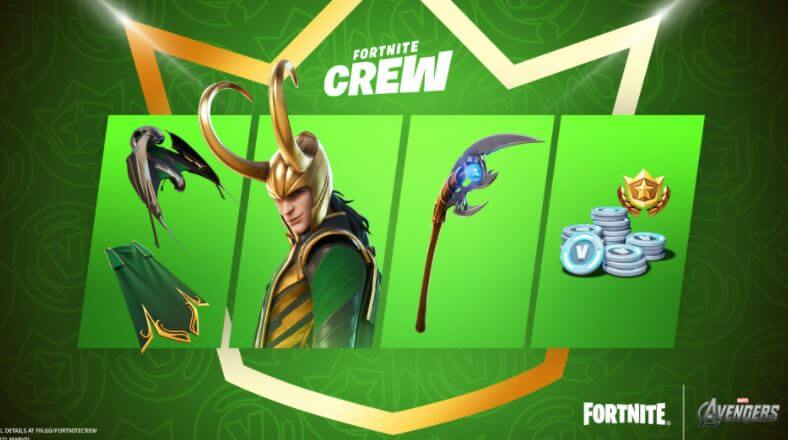 As with all the Fortnite crew packs, you'll receive 1,000 V-Bucks for the July pack along with the season 7 battle pass if you don't have it already.
If you don't have the June crew pack, you have until June 30th at 8 PM ET to get it. That's also when the Loki July crew pack will be sent out to players. Let us know what you think of the Loki skin and whether you'll be grabbing the July Fortnite Crew Pack.