The Loserfruit Fortnite Skin and Emote has now been leaked in-game. Here's what it looks like.
Epic Games had added the Icon Series to Fortnite where streamers and collaborating artists would be recognised with different cosmetics. The main cosmetics that have been added in the Icon Series is Emotes and Ninja had a Skin, Back Bling, Emote and Pickaxe.
When the Icon Series were first announced by Epic Games, Loserfruit was one of the streamers mentioned as being one of the streamers that would be getting their own cosmetics.
Loserfruit Fortnite Skin
As Epic had already announced that the Icon Series would include Loserfruit, fans have been expecting her cosmetics, although there was no mention of the date these cosmetics would be released.
In the v12.60 update, dataminers were able to find some information on the Loserfruit cosmetics and they found that there would be a Skin, Back Bling and Emote. At the time, none of the dataminers could see what these looked like, until now.
Dataminer @SkinTrackerCom has been able to leak both the Skin and the Emote, both of which can be seen in the clip below:
.@Loserfruit Fortnite Skin with the "Fruit Punchers" Emote! pic.twitter.com/WobxTomGDZ

— Skin-Tracker (@SkinTrackerCom) May 22, 2020
The Skin has the description, "One sweet little berry, Vitamin packed and ready to slash," which will also come with the Bounce Berry Back Bling, although the Back Bling has not been shown in the clip. The description for the Back Bling is, "Buddy Bag".
UPDATE: Dataminer @Llama_Leaks has been able to leak the Bounce Berry Back Bling, which can be seen below: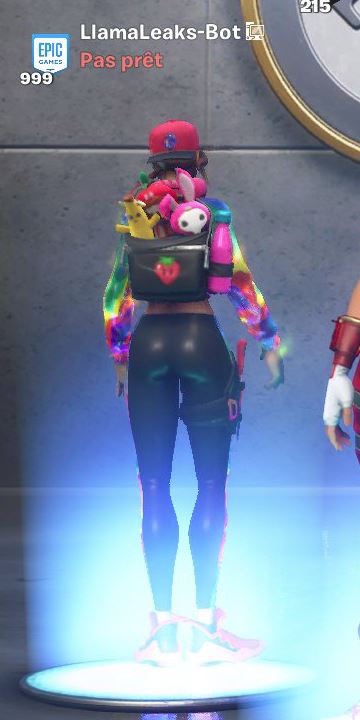 There is also an Emote that has been shown in the clip, which is called Fruit Punchers and the description reads, "Good Vibes only. Keep your friends close."
Release Date & Price of the Loserfruit Set
We do not know for sure when the Loserfruit set will be made available in the Fortnite Item Shop or how much the cosmetics will be sold for. However, looking at the Ninja Set, we can guess at what the cost of the cosmetics will be:
Skin & Back Bling – 1,500 V-Bucks
Emote – 300 V-Bucks
It is likely that the set will be seen in the shop very soon, but we will let you know as soon as this happens. Loserfruit is yet to announce the new Skin, but she did tweet a concept that had been made of the emote, which can be seen below:
— PWR Loserfruit (@Loserfruit) May 22, 2020