Epic Games have finally confirmed when the Naruto Fortnite skin will be coming.
A few months ago, there was a leak that Naruto would be coming to Fortnite. When it didn't release last season, an insider at Epic Games stated that the Naruto Fortnite skin would be coming to the game soon.
It was later revealed by data-miner Hypex that the skin would release at some point during chapter 2 season 8. Last month, he confirmed that the collaboration would happen in November, but no exact date was provided.
Earlier today, Hypex stated that the skin would be released on November 16th, 2021. We finally have an official statement from Epic Games on the collaboration and here's everything you need to know.
When Naruto is coming to Fortnite
Fortnite recently put out a tweet confirming the collaboration with "coming soon" in their tweet. Naruto will officially be coming to Fortnite next week on November 16th, 2021.
Here's a look at the tweet: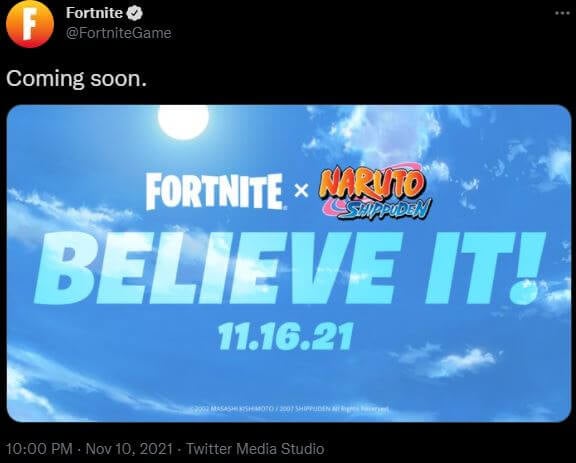 Hypex stated that the Naruto Fortnite skin will release at 2 PM UTC, much earlier than the item shop reset time. However, it seems likely as the release date is on a Tuesday when Epic Games usually release updates.
The next update is confirmed to be v18.40 and should be released on the same day the collaboration goes live. There's a chance we could see a collaboration that goes beyond item shop cosmetics.
We could see challenges added to the game which will then go live at the same time the shop resets. If that's the case, we'll see the challenges leaked before the servers are back up from scheduled maintenance.
The collaboration cosmetics will also be leaked during downtime and we'll be sure to post the full Naruto set as soon as we can. We should also see a Naruto weapon release in next weeks update and we'll be sure to cover the item along with anything else that's included in the collaboration.