Epic Games have just announced their latest collaboration, the NBA.
A couple of weeks ago, documents from Epic Games revealed a number of collaborations that are likely to come in the future. The collaborations included The Rock, Ariana Grande, Hunger Games, Lebron James and many more.
One of the collaborations that should be coming in the future is a Party Royale live event with Lebron James and Zion Williamson. It's likely that collaboration won't be too far away now that Epic Games have announced their latest collab with the NBA.
A Fortnite x NBA Team Battles starts today along with a new NBA welcome hub coming to Fortnite creative. No collab would be complete without Fortnite skins. We have new NBA outfits that'll be coming to the item shop on May 21st. Here's everything you need to know.
NBA Outfits
The NBA Fortnite outfits will debut in the item shop on May 21st at 8pm ET. Players can rep any of the league's 30 teams. There's also the Shoot and Score pack that'll include the Hookshot Emote and the Mini Hoop Back Bling which can features the logo of any of the NBA league's 30 teams.
We also have some players lockers including NBA guards Donovan Mitchell and Trae Young. There's no information regarding when they'll be available, but here's what they will include.
Donovan Mitchell Fortnite Locker Bundle
Cozy Chomps outfit
Sharky Shawl Back Bling
Stark Splitter Pickaxe
Dynamic Fire Wrap
Fire Spinner Emote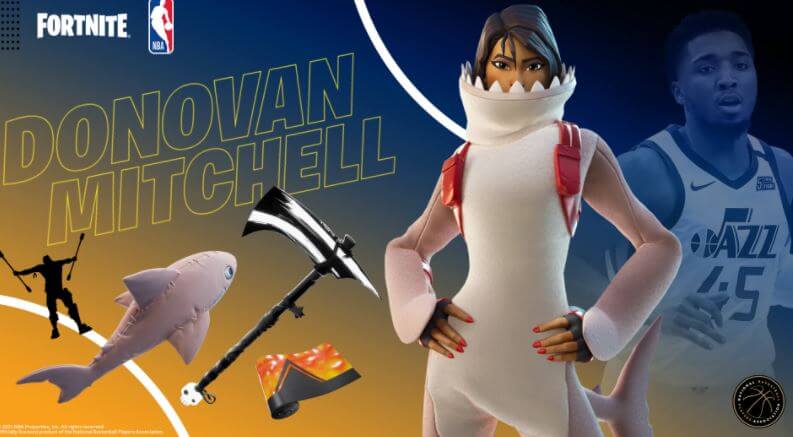 Trae Young Locker Bundle
Scarlet Command outfit
Gold Digger Pickaxe
Happy Stars Wrap
Baller Emote
NBA Fortnite Team Battles
Taking place May 19th to  May 23rd, players can participate in the Fortnite NBA team battles. Players have a shot at getting in-game rewards and V-Bucks. We'll have a dedicated article on this including all the rewards and how to sign up.